Whilst truffling around the corner shop I noticed a delivery of Green and Blacks chocolate wedged on a shelf next to the Twinkies. And there it was; Mayan Gold.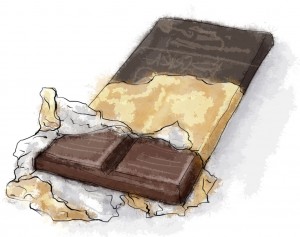 It's kind of orange-y, and spicy and utterly delicious, and eating it straight out of the packet, possibly while reading a magazine and drinking a glass of merlot would be Monday treat enough for anyone. It's a very adult – think almost x-rated – version of the Terry's chocolate orange that Father Christmas puts annually in the toe of my stocking.
Now, the year I was 12, Terry, or some of his corporate minions, decided to run an ad campaign with the slogan "tap and unwrap" in which one famous comedian hit another famous comedian on the head, splitting the orange into segments with apparent ease. I tried this on my then 7 year old sister. I nearly knocked her out, gave her a bruise framing a lump the size of a quail's egg and utterly failed to dent the chocolate orange in any way. Let that be a warning.
This luscious, creamy desert is altogether safer.
Green and Blacks Mayan Gold chocolate pots
Ingredients (serves 4 – 6 depending on the size of your ramekins)
2 bars of Mayan Gold chocolate
¾ cup of heavy cream and ¼ cup of milk
1 large organic fresh egg.
Break two bars of Mayan Gold chocolate into pieces in a bowl.
Pour ¾ cup of heavy cream (double cream) and ¼ cup of milk into a pan and heat until it's just about to boil.
Tip the hot cream over the chocolate and count to 20.
Whisk the melting chocolate into the cream until the color is uniform.
Crack in the egg and whisk again. You're not trying to whip up the mixture, just to really mix everything well.
Pour the mixture into a jug, then from the jug into the little pots. Put the pots into the fridge and let them set for two hours.
(You can let them sit for longer – overnight, a day or so, not much longer because of the egg – but take them out of the fridge to allow them to warm up a little about 20 minutes before you plan to eat them.)
If You Can Make That You Can Make This:
Serve with a jug of cold pouring cream
Or with a fruit salad of orange slices and a little bit of brown sugar
Dust the tops with high quality deep red coco powder