In the middle of a muggy week a sharp effervescent gin and tonic can be relied upon to lift the mood.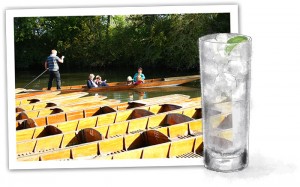 Other than Pimms, (and a hot cup of Earl Grey tea, of course) nothing quite has the power to make me feel nostalgic for home more than gin and tonic. The fresh herbal smell as the bubbles prickle the air takes me back to half imagined, half remembered games of  croquet on the college lawn, and scratch rounders matches in the park, and al fresco  picnics by the river listening to the city bells and the sound of an improbable string quartet rehearsing on Port Meadow.
That said, my first gin and tonic was in less salubrious surroundings – in a dive nightclub in Kingston. My choice had nothing to do with a vague Brideshead fantasy, but rather because it glowed iridescent blue  under uv light! Brilliant.
I'm a lime girl. I've heard the case for lemon, and it is a good case, but I cannot be swayed. You must do as you wish.
Gin and Tonic (per glass)
1 part gin (FYI a shot is about 3 tbsp)
3 – 4 parts tonic (I do this by sight in the glass.)
A few ice cubes.
Use a lime wedge to coat the rim of the glass, then squeeze it into the drink and drop it in.
And with your gin and tonic, pita chips or even better mini popadom chips would be fantastic. You could serve some mango chutney and yoghurt on the side for dipping. Or, if you fancy a little light cooking how about:
Roasted Zucchini "chips" with Curry Yoghurt Dip
Ingredients (enough for 4 people)
1 large zucchini or 2 small ones
1 cup of natural
yogurt
1 tbsp mango chutney
1/2 tsp curry powder
Olive oil, salt and pepper
Cut the zucchini into thin coins – aim for 1/4 cm ish
Toss with a few tsp of olive oil and season with salt and pepper
Roast in a hot oven (400 – 450) for 15 – 20 minutes until golden and crunchy. If the slices are bigger they may take a little longer to roast, but they'll get there eventually – don't be timid about them – you want to get them out when they're starting to get burned and crispy at the edges
Mix the yogurt with the curry powder and mango chutney and tip into a serving dish
Sprinkle the hot zucchini "chips" with salt and serve
This dipping sauce is great with vegetable crudités too, if the thought of turning the oven on is just too much.