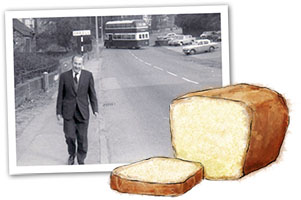 All ingredients must be at room temp before you start to bake with them
1 ½ sticks of butter (6oz)
¾ cup sugar (6oz)
1 orange
1 lemon
4 eggs (extra large US, large UK)
1 cup flour
Pinch of salt
1 level tsp baking powder
 
Preheat the oven to 325f and butter and line a loaf tin
Cream the butter and sugar in a mixer until fluffy, then grate in the zest from half the orange and half the lemon
Beat in one egg at a time until they are all incorporated
Squeeze in about 1 tbsp of the juice from the lemon. Stir in the flour, salt and baking powder until just combined and scrape into the tin
Bake for 50 mins to an hour until the cake is golden and springy to the touch – a toothpick should come out clean. If the cake looks like it's burning on top, cover with foil
Cool the cake in the tin, then slice and eat spread with butter. Or, if you have the patience, leave the cake wrapped in plastic wrap in the fridge for a day or two so that the flavors can develop.