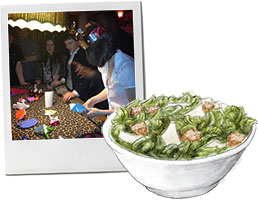 It was my friend Molly's birthday this week. She turned 25 and celebrated with whiskey and an origami competition in a dive bar on the lower east side. By 10pm she was in reflective mood, looking back over her quarter century on the planet and considering the lessons life had taught her thus far:
"Never let a girl move in with you after three dates if you're pretty sure you don't actually like her. It will end up costing you money when you have to help her with the deposit and move her out. Also, if when you're moving her in you accidentally hit your eye on the door of the taxi, that's the Universe trying to tell you something."
She pointed to her eyebrow. "See that. That is my relationship scar."
It made me wonder about myself at 25 and the things that I had learned by that point in my life. Nothing quite as practical as that, for starters.
Worryingly, some of the things I know I knew then I have already forgotten; large portions of Beowulf and Shakespeare that got me through University exams, how to navigate the London Underground, all the words to Can't Touch This.
But thankfully, some lessons remain – that pink cowboy boots are not and were not a good look, how to debug Screenwriter, how to make an awesome Caesar dressing.
Caesar Salad with Chicken
A really good Caesar Salad is a joy to behold. In a world where pretenders lurk in every lunchtime deli, it's satisfying to make and eat the real deal – the difference between cake mix and cake.
For the dressing:
2 tbsp good mayo or 1 extra large room temp egg yolk (use eggs you trust and don't feed it to pregnant people, elderly or fragile people – if in doubt, use mayo)
2 tsp Dijon mustard
2 garlic cloves
8 anchovy fillets
½ cup lemon juice (about 2 – 3 large lemons)
1 ½ cups mild olive oil – or half and half, vegetable and olive oil
1 tsp salt
½ tsp pepper
½ cup grated Parmesan (grate it fresh for this)
 
Grate the garlic into the oil, then add the anchovies and warm over a low heat, breaking up the anchovies with a fork until they're mixed into the oil
Put the mustard, mayo (or egg), lemon juice and seasoning into the processor
Pulse, adding the oil down the drip tube until thick
Add the Parmesan and pulse again to combine
For the salad (serves 2)
1 large head of Romaine lettuce
3 thick slices of day old white bread
2 cooked chicken breasts
¼ cup grated Parmesan
Salt and pepper
 
Preheat the oven to 350f
Slice the bread into cubes, toss with a few tbsp olive oil and salt, tip onto a baking tray and bake for 6 or 7 minutes, turning them over at half time, until crisp and brown
Slice the chicken into bite sized pieces
Slice the lettuce into bite sized pieces
Put the lettuce and croutons into a large salad bowl. Scatter in about half of the Parmesan. Toss with enough dressing to coat – start with a couple of tbsp then go tsp by tsp until you are satisfied
Arrange the salad on plates then top with the chicken, some more Parmesan and a grind of black pepper
Serve extra dressing in a jug on the side