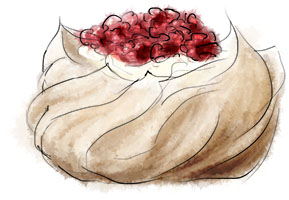 A lot of the time, I feel like a New Yorker. I will argue with you over where to get the best slice in the city. I often tut at the slowness of pedestrians. I once saw a rat try to stare down a Pomeranian. I tell cab drivers if I want them to take the Westside Highway or not depending on the time of day. I know how to get to Carnegie Hall. But there are still times when I feel emphatically, culturally Other.
Examples: When Americans talk about how much they love box mix Mac n Cheese or brownies, baseball in general, anything to do with the US healthcare system. References to distances – "It's really a short drive to Phili from New York", "Sure, let's go and have lunch in Amish country!" – or to the concept of what makes for an old building – "it's Prewar."
This weekend I went to a delightful baby shower. There was fruit punch, there were sandwiches and scones and cup cakes decorated to look like ladybirds. After that, we played games. Pretty straightforward, right? Nope. Totally foreign. Delightful. But way outside my realm of experience.
I've written before about the pitfalls of Bridal Showers. Baby Showers, it turns out, also underline the fact, in the nicest possible way, that I am an alien in a strange land.
If you're not American and you get invited to a baby shower this is what you need to know: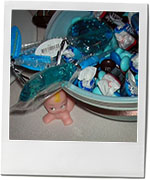 Buy a gift off the registered list, have it delivered to you, and wrap it in something pastel. The mother-to-be will unwrap in again at the actual party. Don't, for example, go off list and buy the mother a bottle of gin with the customized label "Mother's Ruin". This is kinda the focal point. You can't half arse it.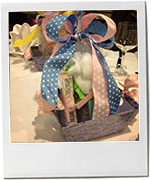 If you are asked to write anything at all – in a book, on a card, on the paper picture frame that will later hold the black and white image of a scan – write something heartfelt and serious. At the last baby shower I went to we were asked to write messages to the baby on the underside of rubber ducks in waterproof marker. Everybody else wrote things like, "I wish you a strong heart, a lifetime of love, and the courage to follow your dreams," I wrote "I wish you the superpower of flight and a good sense of humor." This was not quite the thing.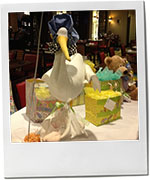 You may be asked to guess the circumference of the baby bump by snipping off a length of ribbon. Err on the side of small, especially if the mother to be spent any formative teenage summers at Fat Camp and might be sensitive about such things.
If you play a game where chocolate bars are melted in diapers to look like baby poo and you have to observe, sniff and taste to guess the brand, forget about it. You won't know what a 100 grand bar is. You won't win the prize no matter how hard you try.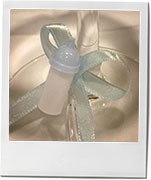 Your drink may be decorated with plastic babies, and your ice cubes may contain miniature pacifiers in pink and blue. Don't choke on them.
Enjoy the mini food, the incredible attention to detail, the ribbons and color coordinated napkins and flowers, the going home gift bags, the amazing female energy, and don't forget to say a little prayer of support and love for your friend who is embarking on such an incredible adventure.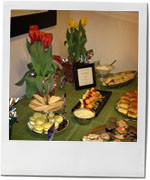 Brown sugar raspberry meringue nests (serves 4 or 8 tiny canapés)
2 large egg whites
125g soft brown sugar
50g hazelnuts (skinless)
1 cup whipping (heavy) cream
1 cup raspberries
 
Preheat the oven to 250f
Toast the nuts in a dry pan until golden, then roughly chop
Wipe the mixing bowl with a lemon to make sure it's spotlessly clean from grease, then add the egg whites and whip until stiff peaks form
Add the brown sugar a tbsp at a time until the meringue is glossy
Pipe or spoon into 8 small mounds on a parchment lined baking sheet, then use a tsp to make a dent in the top which will cup the cream
put in the oven and turn the temp down to 225f. Bake for 1 hour and check – if they're too brown turn down the heat. Give them another 1/2 hour, 3/4 hour until they're crisp on the outside. Cool on the sheet
Whip the cream and fill the meringues. Arrange the raspberries on top
If You Can Make That You Can Make This
Fill the nests with fresh peaches or other berries
Swap out the cream for a mixture of cream and chestnut puree, top with chocolate shavings
Crush berries and fold into the cream adding a little sugar to sweeten, then top with more berries
Try making a Pavlova, like this blackberry one
Or this raspberry white chocolate one
Or this rhubarb fool one