The last time I made Sangria things did not work out so well.
1 broken screen door, 1 smashed pitcher, 1 ruined white rug covered in blood red stains, and 1 white wall now splattered ripper-style that needed re-painting.
Sangria 1. Kate nil.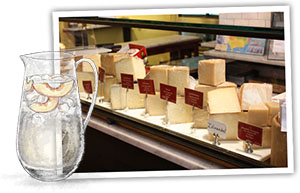 So this Sangria is "safe". Well, safer anyway – It will still break your screen door if you walk quickly into it while carrying a heavy glass jug, but it won't look like a serial killer had a fun night out in your apartment. I'm using white wine. And since peaches are on special offer on my fruit stall, I'm using them too.
Ingredients

1 bottle of Sauvingnon Blanc (something drinkable but not too fancy)
2 cups of club soda
½ cup Cointreau
¼ cup of peach syrup (from a can of peaches) – you could dissolve ¼ cup of fine sugar into the Cointreau if you don't have a tin of peaches
2 sliced ripe peaches
1 cup of ice
Pour into a pitcher, stir and serve. You can make it several hours ahead of time and keep it chilled in the fridge, but only add the club soda at the last minute or it will go flat.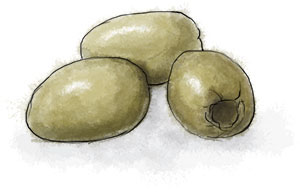 Obviously Spanish nibbles are the way forward here – slices of ham, green olives, spindly shards of manchego cheese, some bread, some olive oil, maybe a handful of ripe tomatoes …
If you want to add to this feast with a little light cooking you could try
Pan Con Tomate

This is a Spanish take on garlic bread, rubbed with sweet tomato juice
Ingredients (serves 4)
4 thick slices of crusty bread or 8 slices of baguette
1 fat clove of garlic
6 ripe tomatoes (if they're not ripe, roast them in the oven with some olive oil and salt for 10 mins at 300)
Olive oil
Salt and pepper
Grill the bread (this is perfect on a barbeque) for 2 minutes on each side until lightly toasted
Cut a slice off the garlic to expose a juicy end, then rub this over the bread
Rub in a tomato, really pressing the juice into the bread.
Pour over a generous drizzle of extra virgin olive oil
Sprinkle generously with salt and season with pepper.