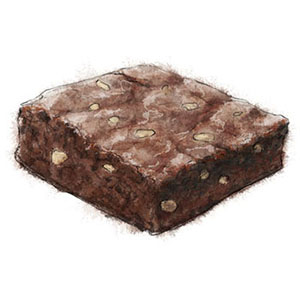 In the movie Serial Mom, staring Kathleen Turner as a suburban killer, she notices a woman committing the social faux pas of wearing white shoes after Labor Day. Now, this is a bit of a spoiler alert, not a very dramatic one, but just so you know …
Kathleen Turner murders her. For real. Um, her character does. You know what I mean.
I'm British, and one of the great advantages of my passport is that I can wear white any day I please. But still. It makes you think.
Of course, these arbitrary fashion dictates – don't wear a black belt with brown shoes for example, other than on Halloween the Power Ranger costume needs to stay indoors – can be disregarded at will, and most likely, no harm will come of it. If  Coco Chanel and Michelle Obama can both wear white after Labor Day, then that's good enough for me.
But I do have a guideline of my own: No wearing white while eating chocolate brownies.
I like to under cook my brownies so that they squidge and ooze hot chocolate. If I'm taking them to a BBQ, which I am doing this Labor Day, then I'll cook them a little longer for ease of transport, but at home, I like a brownie that I can eat with a spoon.
On a side note, one of the very best things about making brownies is that they only require one mixing bowl and one whisk. If you live in a Manhattan style apartment with no dishwasher, this is an added bonus.
7 oz good quality dark chocolate (about 2 bars)
1 stick of butter (4 oz)
1 ½ cups of sugar (12 oz)
2 tsp vanilla essence or cold espresso
4 eggs
1 ½ cup flour (6 oz)
¼ tsp baking powder
1/2 cup of white chocolate chips (about 3 oz)
1/2 cup dark chocolate chips (about 3 oz)
   
Preheat the oven to 350 (about 180C)
Melt the chocolate and butter together in a bowl over a pan of simmering water or in the microwave
Let it cool a little, then whisk in the sugar until the mixture is fluffy (if you have electric beaters, this is easy work. If not, factor in a few minutes whisking time)
Add the vanilla or espresso and the baking powder
Stir in the eggs and flour alternately until the mixture combines
Dust the white chocolate chips with a few tsp of flour and mix in (the flour helps prevent all the chips dropping to the bottom of the mixture)
Pour into a buttered 8 inch square tin (I sometimes use a foil tin because it's easier to pop the brownies out and there's no washing up)
Bake for 40 – 45 minutes – 37 ish for crazy under cooked gooey brownies, maybe even 50 – 55 for cake-y brownies. Keep an eye on them
(don't serve very under cooked brownies to people who are pregnant, frail etc – and use eggs you trust)
Cool a little, cut into squares and serve
If You Can Make That You Can Make This
Use milk chocolate or dark chocolate chips instead of white
Or all white
Add a handful of chopped nuts to the mixture along with the chocolate chips
Or a handful of mini marshmallows
Use flavored chocolate – I love to use Green and Black's Mayan Gold, and then dark chocolate chips