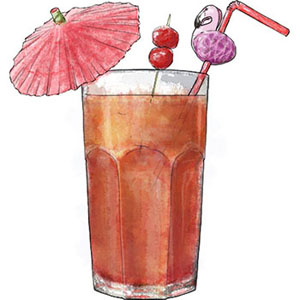 H and J,
Theoretically summer has ended, and I'm concerned that we didn't drink enough cocktails with umbrellas in them. Do you fancy getting together to rectify this sad and sorry situation? I have flamingoes on straws, parrots on sticks, glass hanging cats, and colored paper umbrellas. And rum.
Kate x
 
Kate,
We'd love to!
Hil
 
So I headed over to Wine Warehouse on Broadway, much beloved of NYU students with totally legitimate IDs, and, consequently, a rich seam of non-famous brand spirits, and outré liquors.
Because a Singapore Sling is not the kind of drink that you just whip together one night on a whim. It takes a bit of planning. Cherry Heering for starters, or some other kind of cherry brandy. This is no biggie, I suppose – we're moving into mulled wine, mulled apple cider season. It's going to get used. And then there's the Benedictine, which, frankly, is a bit of a one drink spirit, but Hilary had a bottle, and it would travel, so that was ok.
The Singapore Sling was created at Raffels bar by the bartender, Mr Ngiam Tong Boon, and he jotted the recipe down on a bar-chit for a customer anxious to recreate it at home as follows:
30ml gin, 15ml cherry brandy, 120ml pineapple juice, 15ml lime juice, 7.5ml Cointreau 7.5ml Benedictine, 10ml Grenadine, dash of bitters, soda 
 
Or, in ounces:
1 ½ oz gin, ½ oz cherry brandy, ¼ oz Cointreau, ¼ oz Benedictine, 4 oz pineapple juice, ½ oz lime juice, 1/3 oz grenadine, 1 dash bitters, soda
 
You shake everything except the soda together over ice, pour into a glass, top up with soda to taste, then serve garnished with a bunch of mint, a maraschino cherry and a wedge of pineapple – and as many umbrellas, novelty straws and swizzle sticks and good taste will allow.