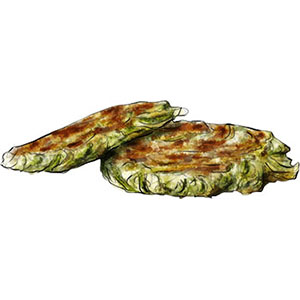 "I can't come out after the rehearsal," said Kathleen. "I promised my friend I'd see her Belly Dancing. It's her first ever show."
Well, that should be fun! We encouraged.
"Possibly. But she takes it really seriously. On a scale with the Bolshoi on one end and Swinging around a poll on the other, she's right up with the Bolshoi. Also, she thinks she was Turkish in a previous life."
"I did Belly Dancing once," said Lisa. "The class was in this Lebanese restaurant. I slipped on a kalamata olive and twisted my ankle."
Zucchini pancakes (serves 4 – 6)
I've been a big fan of the zucchini pancake ever since I read about them in Claudia Roden's fantastic book New Middle Eastern Food.
Ideally, you're looking for smaller zucchini because they don't have such a large seed core. But it's not a big issue. In my Turkish cookery class we grated the zucchini after cutting it in half and taking out the seeds. I don't do this at home. Instead, I grate into a kitchen towel then wring out the zucchini to get rid of most of the water. It works just fine. Though especially traditional Turkish Grandmothers would apparently take umbrage at this, so bear that in mind should you be making these for one.
Another thing just to note; Turkish red pepper flakes don't have the seeds in, so they're much more mild than regular red pepper flakes. If you're using Turkish red pepper, double it here.
2 medium zucchini
2 large eggs (if the mixture ends up incredibly dry, add another egg)
4 tbsp flour
2 tbsp of chopped spring onions or chives
2 tbsp chopped dill
2 tbsp chopped mint
2 tbsp chopped parsley
4 tbsp crumbled feta
1 tsp red pepper flakes
Salt and pepper
Vegetable oil or light olive oil for frying
1 cup yogurt
2 cloves garlic
 
Grate the zucchini and wring out to get rid of the water. Tip into a bowl
Add the pepper flakes, the cheese, the herbs and onions / chives, then season well
Stir in the egg, and mix in the flour
Fry small patties – I make mine about 1 tsp each, though this takes a bit of time – in a hot pan for a couple of minutes per side until golden
Drain on kitchen paper. Eat, or reheat in a medium oven for 5 mins until warmed through
To serve, grate the garlic into the yogurt and put a dollup on each plate, or in a bowl for dipping