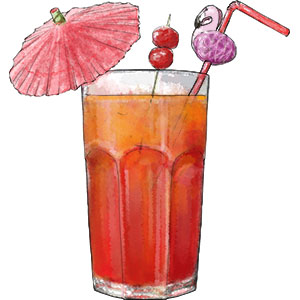 "I was covering a golf party at the Playboy Mansion," said Rhett, casually. Rhett is a sketch writer, and son of infinitely awesome parents, naming-wise. He'd been interning at a paper in LA, he said, and had been sent out to note and observe.
"Actually, the Mansion was a bit of a disappointment. It wasn't all that. The biggest celebrity there was the dude from The Blindside, and he was having a good time, but he might have been the only one. I wouldn't go in that pool. You never know."
He shook his head wisely.
"After the game, there was a pajama party, and I though, if I'm going to get noticed by the girls, I need to be original. Everyone else would be there in Heff-style silk dressing gowns. So I bought a onesie. With hamster ears."
He brought out his cell phone and pulled up a picture to show us. We goggled.
"How did it go?"
"Well, I got noticed. But I didn't get laid."
Sounds about right.
Sex on the Beach
Some weeks need a cocktail with a stupid name to jolt them out of the run of the mill. This is that drink. Obviously.
1 1/2oz of vodka
1/2oz peach schnapps
2oz cranberry juice
2oz orange juice
Fill a tall glass with ice, pour in the alcohol. Top up with cranberry and orange juice. Stir.