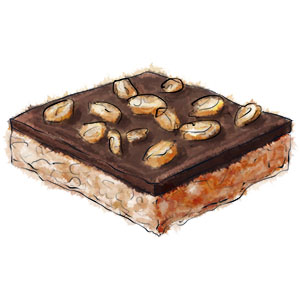 If you work in an office you will know that there is literally nothing more exciting than a co-worker returning from a holiday with chocolate.
I work in an office that is especially snack rich. We have free breakfasts, a free coffee bar, beer hours, pizza lunches, treat baskets. But still, the gravitational pull of a box of Swiss chocolates From Switzerland, or a Duty Free Toblerone, draws people from their desks in moments.
On my last trip to the UK I came back to work with a tin of M&S chocolate biscuits. They were gone in under an hour.
That said, I'm with people on the Toblerone front. I think it's because a giant Toblerone, though undeniably delicious, is not the kind of thing that you buy for yourself.
When my sister was 8, cousin Emma brought a boyfriend to her birthday lunch. He brought a Toblerone as a last minute gift. It was the best present ever. Imagine for a moment that you are 8, holding chocolate that's bigger than your own arm. Nice feeling, right.
The only thing that can top Chocolate From Abroad is a really good homemade baked good. The kind of crazy delicious sugar bomb that changes lives, and brings harmony and love on a slow afternoon.
This is that.
Chocolate Pretzel Peanut Bars
This recipe is a combination of the classic homemade Reeses Peanut Butter cups recipe that my friend Sara of NYC NOM NOM made when we went to her house for dinner, and a butterscotch bar recipe that's been going around Pinterest, and comes from www.bhg.com
1 ½ cups powdered (icing) sugar
1 cup peanut butter (smooth ideally – also, you could use cashew butter or whatever nut butter you like)
6 tbsp melted butter
2 cups crushed pretzels
2 cups chocolate chips (or butterscotch chips)
¼ cup cream
½ cup roasted peanuts
 
Line a small baking tray (12 by 9 ish) with non stick mat, or foil.
Spray with cooking spray
Mix the peanut butter, powdered sugar and melted butter together. Crush up the pretzels, then stir in 2 cups, then press this mixture into the tin. (to make peanut butter cups, you basically just swap in Graham cracker crumbs for pretzels, press into mini muffin trays and top with the melted chocolate)
Melt the chocolate and cream together gently, then pour over the peanut butter mixture
Sprinkle the rest of the pretzels and peanuts over the top. Refrigerate to set, then cut into bars with a warm knife (dip in hot water)