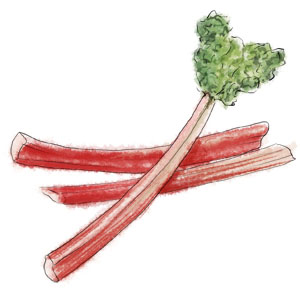 The stars aligned last weekend. 2 separate ideas coming together to shape the inevitable future.
Firstly, Duncan, a friend and a chemist, conjectured that it would be possible to calculate the exact mineral make up of San Pellegrino mineral water, then mix together a powder that could be spooned into fizzy water to replicate the taste.
And then Anelia mentioned that Heston Blumenthal had made his own perfectly passable champagne by carbonating Blue Nun.
We bought the soda stream.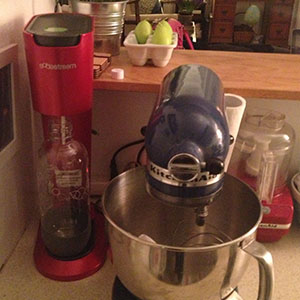 Here's how a soda stream works: You fizz water. You add flavor. That's it. Of course that would be it. What made me think there'd be more to it than that?
So the key to interesting soda is syrup. Indeed, the soda stream comes with a bunch of syrup packets meant to simulate the flavor of various famous branded drinks. Or, and this is where things get interesting, you can make your own.
Rhubarb Syrup for soda streaming, or Rhubarb Gin and Tonics
2 cups of chopped rhubarb
1 – 1 ½ cups of sugar – depending on how tart the rhubarb is
½ cup water
juice of ½ a lemon
(optional ½ vanilla bean)
 
Cook the rhubarb, sugar and lemon (and split vanilla bean if using) gently in the water for 10 – 15 minutes until the rhubarb is soft.

Strain through a sieve (or a sieve and a sheet of muslin if you have one / have the patience). If you want a clear cordial, leave the fruit to drain on its own overnight. If you don't mind a bit of cloudiness, press down on the fruit to extract as much juice as you can. 

This cordial will keep for a week in the fridge.
The leftover fruit is lovely stirred into lightly whipped cream or topping Greek yoghurt for breakfast
I use it in the proportions 1 part rhubarb to 3 parts fizzy water, or I make rhubarb gin and tonics, adding a shot of cordial to the mix.