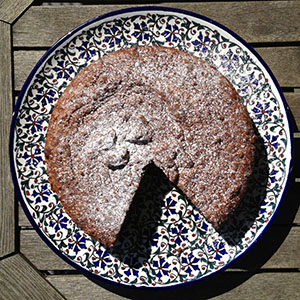 Dubai, it turns out, it famous for dates. Every souk we wandered into, every shopping mall we navigated, was dotted with date shops catering to every budget and taste – from mountains of dried fruit piled in baskets scooped into paper bags, to gorgeously wrapped jewel boxes stuffed with stuffed dates.
"I don't think I actually like dates" said Jon, a man not known to turn down free food, when offered his third or fourth sample of the afternoon.
So when I ordered the date cake at the Basta Art Cafe, as we retreated from the heat of the afternoon to doze in a shady bird-song-filled garden planted with scented jasmine, he was non plussed. "You can have it all to yourself."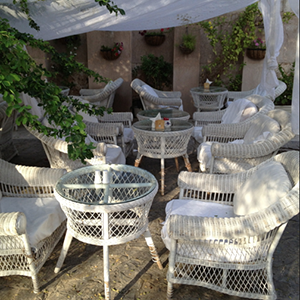 And admittedly, date cake is not a thing of extraordinary beauty. It's dark and brown and moist and almost aggressively plain. Children would never pick date cake off an old school dessert trolley. Carlo, chef at Basta Art Cafe, attempted to cover up the brownness with a dollup of yogurt, a sprinkling of walnuts and a light dusting of cinnamon. This did not fool Jon. "Go ahead. You eat it."
But here's the thing. Dates, once baked, take on an incredible caramel sweetness that utterly transforms them into something decadent and luxuriant. Think exotic toffee.  Not date-iness, just deep, complex sweetness. The most incredible flavor, from the dullest looking cake. Even Jon, once persuaded to try a fork full, enthusiastically ate as much as I was willing to hand over.  "We have to eat more of this."
It was time to try a charm offensive on Carlo, who, as it turned out, was charm personified, and wrote out the recipe from memory, explaining that he'd been making it for over a decade, so he pretty much did without tedious details like measuring and oven temperatures.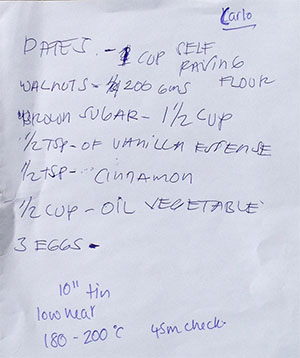 The man in the fruit and vegetable souk looked at the recipe quizzically and called his mother out. She mulled it over. Then sold me a kilogram of date paste, which turned out to be just the ticket. If you can't find date paste, process a cup of pitted dates to make your own. 'Cover the top with foil if it looks like it's going to burn" she said.
So there you have it. Date Cake.
1 cup date paste or 1 cup dates you've 

pulverized

 in a processor
1/4 cup whole pitted dates, chopped
1 cup self raising flour
1 cup brown sugar
1/2 tsp vanilla essence
1/2 tsp cinnamon
1/2 cup vegetable oil
3 large eggs
(optional 200g walnuts)
 
Put everything into a mixer and mix for a couple of minutes to combine

Scrape into a well greased 10 inch cake tin

Bake at 250f for 45 m – 1 hour, cool in the tin for 20 minutes, then eat warm (or zap in the microwave) with yogurt.

To pretty it up, I dusted mine with a little confectioner's (icing) sugar.