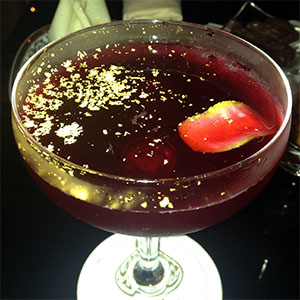 The UAE is a country of contrasts. Souks and Supermalls. Camel Markets and Ferrari World. Desert and Skiing. Jon was working at NYU Abu Dhabi and I was along for the holiday ride.
This is a dry country that encourages you to cover your knees and shoulders for the sake of modesty, then invites you into extravagant hotels, to sell you crazy strong cocktails flecked with gold.
Gold is essentially pointless in cooking. It tastes of nothing, it's completely inert. It's pure decoration. It's an extravagance. It's a thoroughly bizarre thing to do.
Still. Gold topped cosmo?
Yes.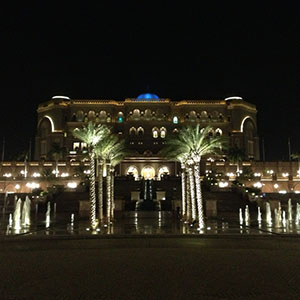 At the Emirates Palace hotel in Abu Dhabi, gold is something of a specialty. The world's first gold vending machine is there, for example. In case you're caught short without a bit of gold, and don't have time to pop out to the shops to get some, presumably. The ceilings are gold, the columns are gold, the cutlery is "gold colored, not actual gold, are you mad?" said Ingyin as we settled into our gold chairs and ordered our gold topped cocktails.
Once you've come to terms with the idea that putting metal scrapings onto things you're going to ingest is a reasonable thing to do, gold is a super easy way to transform pretty much anything into a celebration.
Gold dusted profiterols. Gold dusted cappuccino. Gold dusted strawberries.
Not cheap. Not subtle. But awesome.

Classic Cosmo (per glass)
1 shot of cranberry juice
1 shot of vodka
½ shot of cointreau
Juice of half a lime (or less – I like mine lime-y)
 
Mix in a shaker and pour into a martini glass.