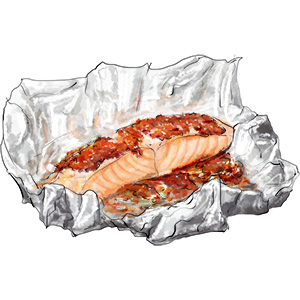 First sunny weekend without thunder, Jon and I hit up the Union Square farmers' market and planted herbs on the balcony. A few days later, and already the basil is thriving in the sunshine, bushing out, bursting upwards, to the manor born.
Ruffle its leaves, and close your eyes and you could be on a terrace in Puglia, looking out over a vineyard. Now, don't get me wrong, I'm generally pretty ecstatically happy to have a balcony in Manhattan looking down over Soho to the spire of Freedom Tower glittering in the sun, but it's nice to have day dreaming options.
Baked Salmon with tomato pesto
2 portions of salmon fillet
1 handful cherry tomatoes
1 handful basil leaves
2 tbsp olive oil
2 tbsp pine nuts
2 tbsp grated parmesan cheese
1 clove garlic
¼ cup white wine
 
Put the tomatoes, basil, garlic (chop it up a bit first to help the processor) pine nuts, cheese and olive oil in the processor and blend to a paste.
Put the salmon on a baking tray and top with  layer of the pesto. Pour the wine around the fillets, cover with foil and bake for 15 mins at 350F.
Take off the foil, and put the tray under the broiler / grill for about 2 – 4 minutes until the pesto is bubbling.
Serve with bread or new potatoes and something green and crunchy – sugar snap peas, green beans, a gem lettuce salad lightly dressed with olive oil, salt and lemon juice.