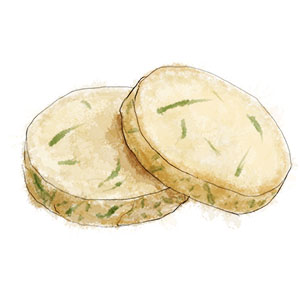 Summer draws to a close and our friends Ingyin and Yosi prepare to return to Abu Dhabi and to the new term at NYU Abu Dhabi's Physics Department. Not quite yet, but too soon. So we planned a fancy dinner while we still had time, and started with drinks out on our balcony.
It's been a lovely summer out there, 14 floors above the city. The basil has colonized the corner, the mint has spread tendrils up the railing. We have flowering chives, and lush rosemary, and silver sage, and a robust parsley bush. It's lovely to water them all in the evening after a long day, and to smell the herbs as the water trickles through them.
So I made rosemary parmesan shortbreads to go with our bottle of wine. And we all forgot to think about them leaving, and us moving apartments, and the sun set over the city around us, and everything was right with the world.
Rosemary Parmesan Shortbreads
When I was at cooking school we'd make these every week to use up scraps of leftover cheese. They went my the name Grange Disks, after the location of the school. But they're really just a simple butter shortbread with cheese – any cheese – and herbs – and herbs – that you think would be nice.
Combinations I make a lot are:
Blue cheese and a little bit of fresh sage
Cheddar and a small blob of grain mustard
Rosemary and any kind of hard cheese
Lavender
1 cup flour
¾ cup grated parmesan
1 scant tbsp chopped fresh rosemary
100g (1 stick usually) soft butter
1 large egg yolk
pinch of salt
 
Make sure the butter is really soft
Mix everything together in a bowl, then dump out onto plastic wrap
Divide the mixture in half to make it easier to work with, then roll each piece of dough into a snake, about the size of a poker chip / two pound coin
Chill for half an hour in the fridge (or freeze, and bring back to cold room temp before proceeding)
Preheat the oven to 350F
Slice into fat coins and arrange on a baking sheet covered in parchment
Bake for 15 mins until just golden at the edges
Eat warm with wine