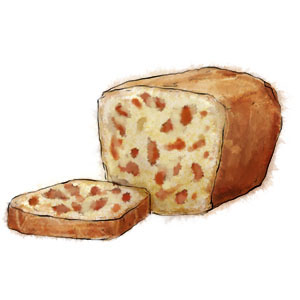 The Union Square Farmers' Market groans with stone-fruit. Wasps buzz around stalls laden with peaches, It's been a long day apartment hunting ahead of our September 3rd move out deadline. And frankly, it's not been any fun whatsoever. I load my bag with kilos of plums and apricots, and head home to make cake.
Once you start house-hunting, don't you feel as though you've already kind of left the place you actually live in? I really have been feeling that way. Unmoored from my home.
Baking anchors. Brings me back to my happy place in the kitchen for half an hour. Fills the apartment with cinnamon and vanilla. Keeps it smelling like a home until we find a new place to call home.
Apricot Cake
1 cup chopped apricot
1 ¼ cups flour
¾ cup sugar
1 tsp baking powder
½ tsp baking soda
½ tsp salt
2 eggs
½ cup vegetable oil
½ cup plain yogurt
1 tsp good quality vanilla extract
 
Preheat the oven to 350
Mix the apricots, flour, sugar, baking powder, baking soda and salt in a bowl
Mix the eggs, yogurt, oil and vanilla extract in a jug
Pour the wet ingredients into the dry ingredients and stir to combine
Butter a loaf tin and pour in the cake batter
Bake for 50 – 55 mins until golden brown