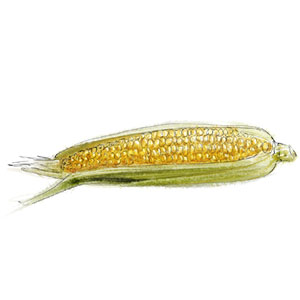 So here we are in September, contemplating whether or not to wear tights. It's Fall in the morning, High Summer by lunchtime. Here, at the crossover, dressing, and dining, could go either way. As apples overtake tomatoes in the Union Square Farmers' Market, it provokes a series of questions: did I eat enough lobster rolls this summer? Was there enough ice-cream? Enough frozen margaritas?
"There hasn't been enough sweet corn in my summer," I emailed Sara and Mike. "Want to come over and eat some tonight?" And so, for our last dinner in our apartment before the great move, I roasted a chicken, tossed together a chopped salad, and sweet corn occurred.
1 ½ ears of corn per person
1 small handful of cherry tomatoes per person
1 large handful of basil
couple of spring onions (scallions)
2 tsp mustard
¼ cup lemon juice
2/3 cup olive oil
1 tsp salt
good grinding of pepper
 
Shake the mustard, oil, lemon juice, salt and pepper in a jar to make the dressing
Shuck the corn, and cut the kernels off (carefully – put the corn long side down on a board, then slice off the side, rotate so the side is not the stable base, and keep slicing until all the kernels are off)
5 mins before you want to eat the salad, slice the scallions / spring onion and mix into the dressing. Slice the tomatoes into the serving bowl
Sauté the corn in a splash of olive oil, seasoning generously. Use a high heat, and stir until the kernels are beginning to look toasted. Tip into the bowl.
Dress the corn and tomatoes to coat, then tear in the basil.
Serve.
(I can vouch for this salad being great cold the next day too)