When I first started coming to New York, about 10 years ago, Appletinis were The Thing to drink. They were vivid green. And wholly awesome. Then Cosmos came along, and that was the end of that. And then Cosmos too were over and people who care about that sort of thing were reduced to ordering them in bars with a surreptitious whisper.
But this? This is a terribly trendy appletini because it uses infused vodka, which is something of a watchword in NY at the moment – I recently received an invitation to an apothecary cocktail party that promised lemon verbena martinis, for example.
Honestly, "spice infused" sounds fancier than it really is – we're just putting some apples and spices into a jam jar, covering with vodka and shaking it up a few time a day for 2 days.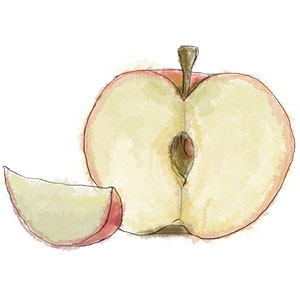 (For 1 jam jar)
¾ jam jar vodka (something smooth that you would drink anyway)
½ an apple
1 clove
1 cinnamon stick
1 inch piece of lemon peel
Cointreau
 
Slice the apple, then put everything in the jam jar
Keep in the fridge
Shake up when you think about it
Let everything infuse for 2 days
Strain through a coffee filter. Keep cold in the freezer
To make the appletini:
Shake 1 measure of the vodka with 1/2 measure of Cointreau, then serve with a twist of lemon