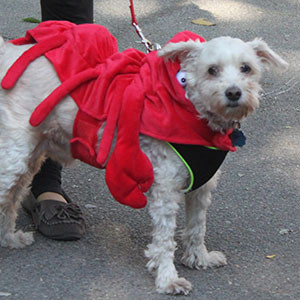 My sister was visiting for the weekend, which, happily, coincided with one of my favorite events in New York, the Halloween Dog Parade.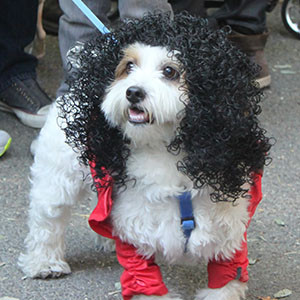 "I'm watching it, and I still can't really believe it's happening," said Sarah, as a dog dressed as a bumblebee sniffed a dog dressed as Michael Jackson.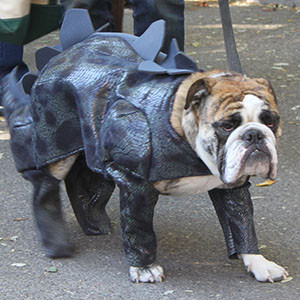 Sharks were clearly a theme this year – from classic Jaws to Hammerheads. Dinosaurs were another popular choice. Ballerinas. Princesses. Wonder Woman. A dog for every taste.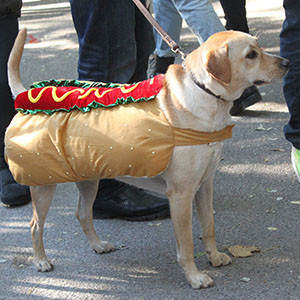 "Here's what we've learned today," said Jon. "If you want to win, you need to go homemade, for sure. Store bought costumes are just the table stakes for this one. Punning helps. Something political makes a nice change. Here's what's not going to cut the mustard: a knitted sweater. A leash decorated with beads. A bandana. Seriously. Get it together."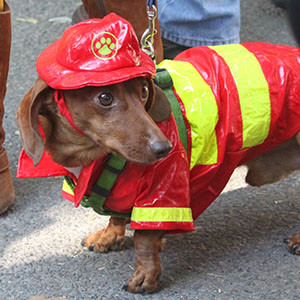 Devils on Horseback 
1 rasher of streaky bacon for every 2 no soak de-stoned prunes
I usually count on people eating 4 or 5 depending if there's any other food to eat. They can be made in advance and frozen, then cooked from frozen in the oven.
Cut a slice of streaky bacon in half
Using a knife blade carefully stretch out the bacon as though you are buttering bread
It should now be much thinner and about the same length as the original slice
Place the prune at one end and roll up
Put on a tray with the loose side on the bottom
Cook in a hot oven (400ish) for 12 – 15 minutes until the bacon is cooked
Allow to cool for a few minutes before serving