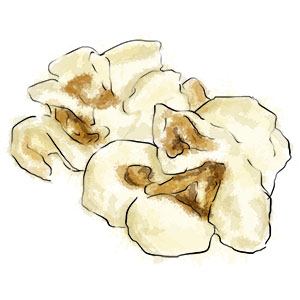 Retreating from the snow that blanketed Manhattan last weekend, we headed to Ronnie and Karen's house for Swedish home cooking and Christmas music playlists.
Talk turned to our various Christmas Traditions, and, just as it had done last Easter when Ronnie explained to us with a straight face that Easter was the time when witches came out of the hills to fly about freely, Swedish Traditions turned out to be Awesome in their own unique way.

So here's the thing, in Sweden, Father Christmas franchises out his duties to other random Christmas Elves, who will pop by on Christmas Eve, and help tidy up your barn if you leave a bowl of porridge on your doorstep. But if you're a kid, and you don't have a barn, Father Christmas or one of the elves will interrogate you about your behavior over the last year, and, if you've been bad, you will be exiled to the forest, and live on pine-needle soup until the next Christmas.
"Seriously?"
"Oh yeah. Pine-needle soup! Ha!" they laughed.
"Like, really, wow, seriously?"
"It's pretty terrifying," Karen admitted. "One year, my brother flooded the house on Christmas Eve. It was pretty much the Worst Thing he could have done. And he was convinced he'd be going to live in the forest in exile. He was hiding, and crying, and nothing my parents said could console him. So yeah, in comparison, American Christmas seems a little tame."

Gingerbread Popcorn (4 – 6 servings)
This popcorn is a Swedish ginger cookie in warm snackable form.
1 tbsp vegetable oil
½ cup popcorn kernels
3 tbsp butter
2 tsp salt
2 tsp ground ginger
1 tsp cinnamon
1/4 tsp ground cloves
1 tbsp light brown sugar
 
Put the oil, popcorn kernels and 1 tsp of the salt into a pan. Cover with a double layer of foil to make a lid, and poke a few small holes in so that steam can escape
Hold the pan above the heat to gently cook the kernels (about 4 minutes)
Melt the butter and add the spices, sugar and the rest of the salt. Swirl the pan until the sugar dissolves (a couple of minutes)
Toss the popcorn in the butter and spoon into paper bags to serve
Swedish Ginger Cookies
This New York Times recipe is road-tested by Swedes, and is, apparently, the business.  I make them in star shapes, because I have the cutters, and they are unfailingly pretty. (FYI: Less successful shapes for the icing inept include The Nativity Stable Scene. Father Christmas's Sleigh. A Rudolph. A wise man on a camel. And last year, not to be repeated, Jesus in Manger that looked like Cartman from South Park. So stars it is, and very beautiful they are too.)
http://www.nytimes.com/recipes/1164/swedish-ginger-cookies.html