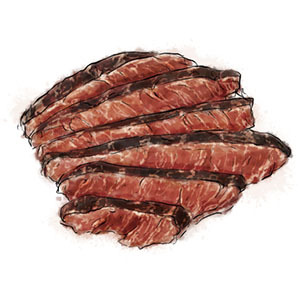 Jon and I have been together since we were 19, and in all that time, he has been dramatic precisely 3 times, and all for good reason: moving countries, changing jobs.
He has never, to pick an example at random, called me in the middle of the day sobbing because a cat on the internet "looked mournful", or he ate a disappointing sandwich and regrets wasting the calories, or his nail polish chipped on the first day of a new manicure and it reminded him of the temporal nature of life and the essential futility of all endeavors.
And so, every so often, I make him skirt steak on a weeknight to let him know that his tolerance for drama in others is appreciated.
Spiced Skirt Steak  (serves 2)
1 piece of skirt steak (8ozish) 1 tbsp of lime juice 1 tsp paprika 1 clove of garlic Salt and Pepper Olive Oil  
Marinate the steak in ½ tbsp. lime juice for 10 mins while the griddle heats up.
Dab it dry with paper towel and throw out the marinade.
Cut the garlic in half and rub the cut side all over the steak.
Rub the paprika into the steak, and season really well with salt and pepper.
Griddle for 3 minutes per side, until charred but still pretty rare.
Put on a plate to rest, re-season, sprinkle over the rest of the lime juice, and a splosh of olive oil. Let the steak sit, well wrapped in foil for 3 mins.
Slice and serve with:
Oven roasted asparagus
A green salad and some bread
A baked potato and a handful of tomatoes
Thinly sliced fennel, cucumber, celery and walnuts tossed in a little salt, lime and olive oil