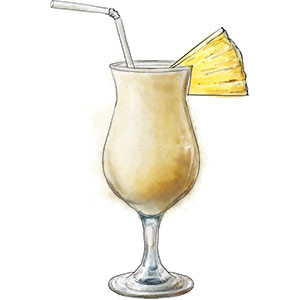 So the mystery of how the mosquitoes were getting into the apartment in the first place was solved when I was taking a shower, watching one buzz purposefully up to the window screen, then continue, undeterred, straight through the mesh of the mosquito screen.
"Motherfucker!" said Jon, quite uncharacteristically, as he lunged for his rolled up magazine and began the swatting dance. "That's it. Close the window. Shut it down. No more fresh air till autumn."
That's the thing about Summer. You have to take the bad along with the good. On the one hand, biting insects, sunburn, ice coffee sweat making rings on the table, skorts. On the other, a drink that makes it all ok again.
Pina Colada
2 oz pinapple juice 1 oz rum 2 oz crème de coconut ice Maraschino cherry to garnish  
Pour the ingredients into a blender with a handful of ice and blend to combine.