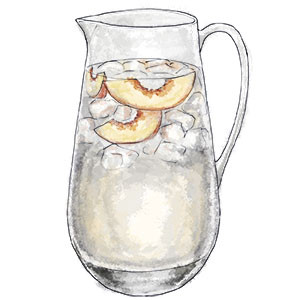 We recently moved house. Yes again. Back downtown to Chelsea and to an apartment on the top floor. Mostly because our old ceiling let through a lot of noise and it was driving me crazy.
How much noise? Well, when 2b's phone rang Jon and I would pat our pockets, and the second time they had sex, he fell out of bed, they could hear us laughing, and it made meeting at the mail box awkward. So Chelsea it is. And so far, so good.
But moving is always a drag – boxes and wrapping and packing and sorting and cleaning. Finally victorious, Jon opened a beer. We'd packed the glasses, so I just drank the wine straight out of the bottle.
"This is a bit ghetto," I noted.
"Yes," Jon agreed. "If they have chardonnay in the ghetto."
White Wine Sangria
1 bottle of Sauvingnon Blanc (something drinkable but not too fancy) 2 cups of club soda ½ cup Cointreau ¼ cup of peach syrup (from a can of peaches) – you could dissolve ¼ cup of fine sugar into the Cointreau if you don't have a tin of peaches 2 sliced ripe peaches 1 cup of ice
Pour into a pitcher, stir and serve. You can make it several hours ahead of time and keep it chilled in the fridge, but only add the club soda at the last minute or it will go flat.