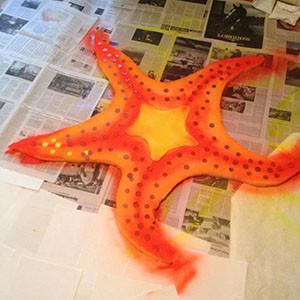 So I wrote a play for my friend Annie, and in it, is a giant luminous starfish. "You'll be ok making that, right?" I blithely checked with Jon as I headed out of the door on Saturday morning.
"Sure," he said. Which is one of the primary reasons that I married him.
When we first got together back in university, he volunteered to make a giant whale puppet. This took several weeks, and, of course, we couldn't break up for the duration out of loyalty to the show. By the time the whale was completed, we were kind of in the habit of being together, and I guess it stuck.
So I returned to an apartment that resembled a chemical factory. Jon had opened the window (note window singular, this is New York), and spray-painted the five foot starfish in the living room.
"I thought about lighting a scented candle to make the flat smell better," said Jon, spluttering through the fumes. "Then I thought, on second thoughts, best not."
So this was the next best thing.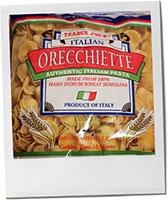 Orecchiette with Roasted Garlic Tomato Sauce (serves 2)
Tomato season finally gets under way, and I can sneak out at lunchtime from my desk and pick paperbags full for dinner. But when you find yourself with a batch of tomatoes that isn't at it's 100% ripe sweet best, this is a great way to beef them up a bit.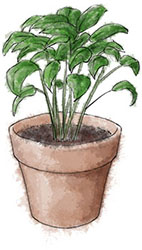 I have a particular soft sport of orecchiette, ever since a raucous family holiday to Puglia a few years ago, where it is the regional pasta shape. It looks like little scoops, sometimes referred to as ears. I stood fascinated watching a woman sitting at a table outside her house making it – cutting a roll of dough into short disks as though she was slicing a salami, then pressing out the curve with her thumb. The scoop shape is great for cupping this garlic-y tomato sauce.
2 generous handfuls of tomatoes 1/4 bulb of garlic (torn off, skin still on) 2 cups orecchiette Salt and pepper Olive oil Parmesan cheese Salt and pepper  
Pre heat the oven to 350f. Put a pan of water on to boil.
Drizzle the garlic with a little olive oil, wrap well in foil and roast for 25 minutes
Chop the tomatoes into halves and quarters, season well, drizzle with olive oil and roast for 15 minutes.
Bring a pan of water to the boil salt it generously, add the pasta, stir to separate, clamp the lid on and set a timer for 2 mins less than the packet instructions so it will be al dente
Carefully open the foil packet and squeeze out the garlic cloves. Mash them into the tomato mixture.
Once the pasta timer goes off, drain the pasta (not too well, the starch in the water helps the sauce), then add the tomato mixture to the pan and stir well
Serve in warmed bowls with plenty of parmesan cheese