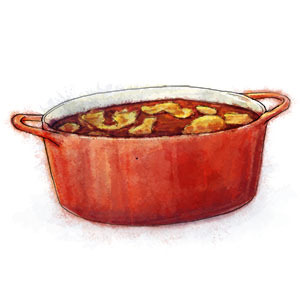 This, from Jeanmarie, who heard it from a man she met on a windy train platform on her commute into the city one early morning.
"I met a man who said how much he enjoyed the fall weather every year because it was so different to what he was used to growing up in Guatemala. Then he told me that actually, it was lucky that the weather had been pretty climate where he was from, because a couple of farms in his village were bought by a religious sect that believed in a lot of things, but not in clothing. They were nudists, you see."
I saw.
"And since it was a small village, when they moved in, they pretty much skewed the majority from clothed to not-clothed. Apparently it caused a lot of scandal at the time. But, the man said, it made him that much more grateful for sweaters now."
Chicken Parmigiana Stew 
This is real Sweater Weather food. And it's quick too: idea of dinner to dinner on the table in half an hour.
4 – 6 chicken thighs 2 tbsp lemon juice 1 large onion (optional – 4 strips of bacon) 1 clove garlic 1 large can of crushed tomatoes or a jar of pasata 2 tsp tomato ketchup (or 1 tsp sugar or honey) 1/2 cup cubed mozzarella salt and pepper  
Dice the onion and cook on a medium heat in a splash of olive oil (with the diced bacon if using) until it starts to soften. Season well
Meanwhile, dice the chicken into bite-sized pieces, season and let sit in the lemon juice while the onion cooks (about 5 mins)
Add the chicken to the onion and brown for a few minutes
Grate in the garlic, add the tomatoes and ketchup or sugar. Add about a cup of water and simmer for 20 mins until the chicken is cooked through
Take the lid off, sprinkle the mozzarella on top of the stew, and broil / grill or bake for another couple of minutes until the cheese has melted
Serve with a drizzle of good olive oil, and some bread for dipping and a fresh green salad dressed with lemon juice and salt.