My Labor Day cooking tends towards the simple – basically burgers as often as I think I can get away with them, and for dessert I want to stay in a relaxed holiday mood, to expend as little effort as possible to get the biggest reward. I want my desserts to look spectacular, to taste summery and delicious, and in honor of the occasion, I want as much red white and blue as I can muster.

I'm a believer in a theme, a fact which can occasionally sucker me.
On the last big American holiday of the year, the 4th of July, I was charged with bringing dessert to the party. Being British, I was anxious to please, so I sought advice and was told, "Oh everybody has flag cake on the 4th of July. Not having Flag Cake would be like not having chocolate eggs at Easter". 
Speaking as one whose Christmas would be entirely ruined if there was no Christmas pudding at the end of the meal, I am sympathetic to food expectations when it comes to holidays, and I was determined that my flag cake would do my adopted country proud.
I had never heard of flag cake before, but a quick internet search educated me. I tracked down a recipe. I bought the enormous tin that the recipe required. I carried bags of berries home from the fruit stand. I had several practice runs at the cake and decoration thereof. Jon drew a flag template for proper berry placement. I bought a wooden board to fit the enormous confection, then a box to fit the board, and then I heaved it on the ferry across the river to West New York (New Jersey) and set it down on the picnic table that my friends had erected on the shore with a great view of the fireworks.

"Is that a flag cake? Somebody made a flag cake? I've never actually seen one of them before. Would you look at that. Actual flag cake."
Total strangers stopped to gawp and take photographs.
"Is that a British thing"? One of them inquired.
"I never thought you'd actually make it," said the woman who suggested it in the first place.
But on the slight off chance that you're not making a flag cake this holiday weekend, here are my top 5 high impact low labor red white and blue desserts.

1 – Mini Flag Cake Squares
Buy a pound cake, or two for a crowd
Slice thickly – I'd say at least 1 ½ inches per slice.
Ice each slice generously with frosting, which you can make by mixing 2/3 stick of butter (1/3 cup if you prefer) with 3 cups of confectioners (icing) sugar. Once it's smooth and soft, add 1 ½ tsp good vanilla and t tsp milk , or you can buy in a pot from the supermarket
Now cut each slice into quarters or sixths, depending on the size of your pound cake, to make dinky little squares
Lay the squares on a platter in a rectangle shape – this is the flag bit
Top the top left hand squares with little piles of blueberries, and the rest of the squares with single raspberries and strawberries or with coconut or white chocolate shavings to make the stripes of the flag

2 – Red white and blue ice cream sundae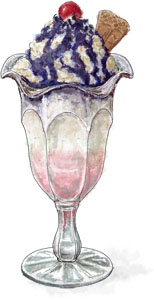 Nothing says summer like an ice cream sundae. I'd suggest strawberry and vanilla with blueberry sauce – though technically this would be a pink white a blue sundae it's so delicious that I think we'll get away with it. Cherry and white chocolate ice cream with blueberry sauce would be good too, now I think about it.
Consider providing whipped cream – from a can has its own charm too – and little dishes of red white and blue M&Ms, sprinkles, white chocolate shavings and maraschino cherries for people to get creative with.
Blueberry sauce
This recipe owes more than a little to Ina Garten whose book introduced me to the idea of using jam rather than sugar to sweeten and thicken a fruit sauce.
Ingredients
1 cup of blueberries
1 tbsp seedless strawberry jam
1 tsp balsamic vinegar
 
Blend the jam, blueberries and sugar until smooth
Tip into a saucepan and heat in for a few minutes until runny enough to pour
Add the balsamic vinegar to turn the sauce a deeper blue and to bring out the sweetness of the blueberries
If you can make that, you can certainly make this: More Sundaes and Sauces

3 – Raspberry and Blackberry Tart
Ingredients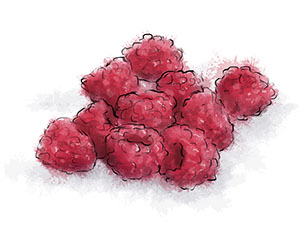 1 sheet of defrosted puff pastry
1 cup of ricotta cheese (or thereabouts)
2 tbsp sugar (vanilla sugar if you have any)
1 tsp good vanilla essence (if you don't have vanilla sugar)
1 pint of raspberries
½ pint of blackberries
Vanilla ice cream and confectioner's sugar (icing sugar) to serve
 
Lay the pastry sheet onto some parchment and roll out to get rid of the creases. Score a border around the edge and prick the pastry in the middle with a fork.
Mix the ricotta with 1 tbsp of sugar (and the vanilla if using) then spread it over the pastry inside the border.
Toss half of the fruit with 1tbsp sugar and arrange on top of the ricotta mixture (if the blackberries are especially sharp you might want to add more sugar)
Put the tart onto a tray and into a pre-heated oven and let it cook for 20 – 25 minutes. If your oven is a bit old and unreliable, like mine, turn the tart around half way through cooking in case one bit of oven is hotter than another and the tart cooks unevenly (i.e. one part raw, one part ash, as in my oven).
Once cooked, top with the rest of the berries and dust with icing sugar. Serve with vanilla ice cream
If you can make that, you can certainly make this: More Tarts

4 – Red White and Blue Popsicles
Your first option is to buy red white and blue smoothies and freeze them. Job Done.

Or you could blend a cup of watermelon with a cup of orange juice and freeze for red, blend a cup of blueberries with a cup of pomegranate juice, (and a sprinkling of sugar if the berries are too sharp) and freeze for the blue, and blend a cup of bananas with a cup of Greek yoghurt and 1tbsp of honey then freeze for white.

Or you could pour a little bit of white grape juice into the mould then drop in a raspberry or two. Freeze. Now pour in a bit more grape juice and drop in a few blueberries. Freeze. Pour in another layer of grape juice and drop in some white edible flowers if you can find them (elderberries or white currants would be lovely too). Freeze. It's time consuming, but not difficult and it looks really beautiful.

5 –White Chocolate Pots with Blackberries and Raspberries
This mixture makes enough to fill 6 ramekins, but I like to serve it smaller shot glasses because it's pretty rich – it's enough for 8 servings – and because you can really see the colors of the fruit
Ingredients
2 bars of good white chocolate
¾ cup of heavy cream, and ¼ cup of milk
1 large organic fresh egg
Blackberries and raspberries
Break two bars of white chocolate into pieces in a bowl.
Pour a ¾ cup of heavy cream and ¼ cup of milk into a pan and heat until it's just about to boil.
Tip the hot cream over the chocolate and count to 20.
Whisk the melting chocolate into the cream until the color is uniform.
Crack in the egg and whisk again. You're not trying to whip up the mixture, just mix everything well.
Put a few blueberries and raspberries in the bottom of your glasses – or go with a layered approach and put raspberries on the bottom as a single layer
Pour the chocolate mixture into a jug, then from the jug into the little pots or shot glasses. Put the pots into the fridge and let them set for at least 2 hours or overnight. Leave them out of the fridge ten minutes to lose the chill before eating them.
Decorate with a few blackberries and raspberries – unless you're doing a layered aesthetic, in which case, decorate with blackberries
If you can make that, you can certainly make this: More Chocolate Pots