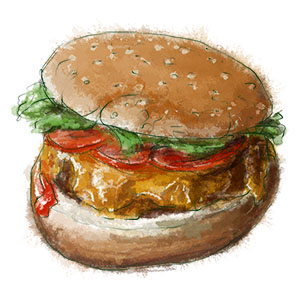 The presents are achieved! With a last minute dash to the Upper East side on a secret mission before the carol service last night, I am finished. The washing has been put through. The suitcases have been located and emptied of random blankets and towels. We are ready to pack and get British Christmas underway.
It's become an absolute tradition that on our last night before heading back to London, Jon and I meet up for a burger and a martini.
Our criteria? Must have a perfect, juicy, burger. Must serve martinis (sorry, but that rules out you, Shakeshack). Must be cozy (rules out Corner Bistro, which is always busy, with new people swinging through the door every second, and is, therefore always drafty). Must not require a subway ride – so, Brooklyn, Queens, sorry, this is not the list for you. So, with those disclaimers out of the way, here are the contenders of the year:
Minetta Tavern. Both burgers are awesome. Brioche bun perfection, caramelized onions, no need for cheese. Take your pick if you can get a reservation. I just love these damn burgers!
Delicatessen. Ok, so it's a little bit posy, but we love people watching here almost as much as we love this burger and martini. Other points to keep in mind, 1.) you can get it with truffle fries (you want to get it with truffle fries), and 2.) it's available 24 7. Literally. If it's 4 am and you want a burger and a martini, this is the greatest place to get exactly that.
B & B. Another old favorite. Simple, meaty, juicy. And the onion rings balanced on top like a hoopla are a genius touch.
The Nomad Bar. This is the Christmas Burger 2014. Fancy-as-all-get-up bar, fantastic fries, and a burger that hits all the right meaty, musty, juicy, cheesy notes. Happy times.