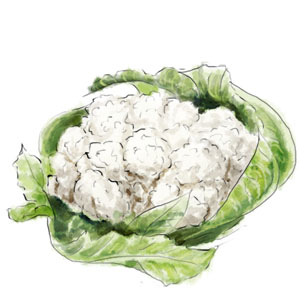 Norma and Roger, friends of my parents, recently announced their Snow Bird plans; "We're changing thing up a little this year. We've booked a house in Naples for 2 months. January and February. It's going to be great, right?"
Mum and Dad looked askance. "Won't it be a little cold?" wondered my mother, mindful of our own family Easter holiday to Rome when all we took were shorts and sundresses and it snowed for three days straight, ("and that was in April").
Roger shrugged; "Cold? Well, not compared to Toronto!"
Fair enough.
"And the food is great there."
Well yes, my parents conceded, it surely would be.
"And we love the shopping!"
The logic was inescapable; if Prada and knock-off Prada is your thing, Naples is where you want to be. "We're really looking forward to it!"
"What about the Mafia?" my mother wondered.
"In Florida?"
Roasted cauliflower penne with sage and breadcrumbs
2 scant cups dried penne 1/4 cup cream 1/4 cup white wine or vermouth. 1 fat clove of garlic half a cup of lardons ½ cauliflower broken into florets 1/3 cup grated Parmesan cheese 1/2 cup panko breadcrumbs 2 tbsp chopped parsley 2 tsp capers lemon
Toss the cauliflower with some olive oil, salt and pepper, then roast at 350 for 25 mins, turning once or twice, until cooked through.
Bring a large pot of water to the boil, salt liberally, and tip in the pasta. Cook according to the packet instructions (but err on the side of slightly al dente)
While the pasta is cooking, get a frying pan on the heat, add just a little dash of olive oil and toast up the panko until it is nut brown, and smells like heaven. Tip into a dish, add half the parmesan and the parsley. Season well.
Get the frying pan back on the heat, drizzle in a little olive oil and get the lardons cooking until they are crisp and render some fat. Grate in the peeled garlic clove, turn in the heat, then add the wine and cream. Let the sauce bubble and reduce slightly.
Toss in the cooked penne, add the cauliflower, capers, and the parmesan, and cook for a minute to bring all the flavors together. If the sauce is too dry, add a splash of pasta water.
Divide into bowls, and top with the breadcrumbs mixture. Freshen up with a squeeze of lemon.