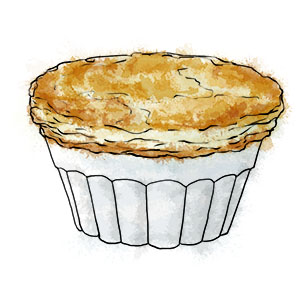 So I met a man at a party who told me that he once had a friend who worked at Coney Island in a curiosities show. Her particular curiosity and talent was that she was able to eat insects in a theatrical way.Things were going swimmingly for her, life was good, until she suddenly, and quite unexpectedly, became a vegetarian.
"Obviously the gig was up with the insect swallowing," said the party guy. "She had to diversify. She took up sword swallowing instead."
This is terrifying on a couple of levels. Insects and swords, obviously. But also, the sudden realization that you have turned into a vegetarian. Poof. Vegi. That's that.
Jon's brother became a vegetarian, mostly for health reasons, many years ago, but he was determined that this would be no barrier to occasionally eating his favorite food: steak with blue cheese sauce. Sadly, his body, once cleansed of meat, was super reluctant to have it back again, and, miserably, that was the end of that.
This is Jon's nightmare.
And so, there is steak pie. And where there is steak pie, comfort and happiness is close at hand.
Steak pie.
1 onion 1 bay leaf 1 sprig rosemary (leaves picked and finely chopped) ½ kg stewing steak (I often use skirt) 1 box of chestnut mushrooms (cleaned and sliced) 1 bottle of Guinness 1 tbsp tomato puree 1 tbsp balsamic vinegar 1 cup beef stock (or other stock) 3 tbsp flour 1 packet puff pastry (either defrost overnight in the fridge, or on the kitchn counter for an hour or so) 1 egg
Pour the flour over the beef cubes and toss to coat.
Fry the beef in a casserole dish until browned, Pour in the Guinness and scrape the brown bits into the sauce.
Add everything (but the pastry!), season well, put the lid on. Low oven. Hour and a half. The stew should be tender. Take the lid off. Half an hour. The stock should reduce. If you're doing this ahead, stop here and pick up the actual making of the pie part later.
Pour the steak stew into a pie dish – I use a deep white and blue enamel one that my sister bought on a market stall.
Crack the egg into a bowl, whisk (maybe adding a few drops of water to lighten it up). Dibble the edges of the tray with the egg wash.
Lay the pastry over the dish (you may have to roll it out a little to fit). Egg wash, and season well.
Bake for about 40 mins at 350 until the pie is puffed and golden.