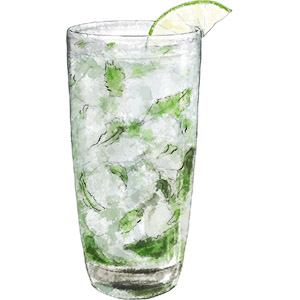 "3 for 3" Jon texted modestly, upon winning the NASA hackathon again, and spending the day with not one but two bonefide astronauts.
It was news worth celebrating, which is where the Gin Fizzes come in, of course, the perfect (easy) way to mark occasions from "we made it to Friday" to "I hacked space!"
Usually gin fizzes are 2 parts gin, just less than 1 part lemon, simple syrup to taste, topped up with soda (that's the "fizz" part). But we take ours in a more mojito direction:
Muddle a large sprig of mint with a tsp of sugar and the juice of half a lemon. Add a good measure of gin and shake over ice. Pour into a glass (straining if you prefer) and top up with soda. Makes 1 glass.