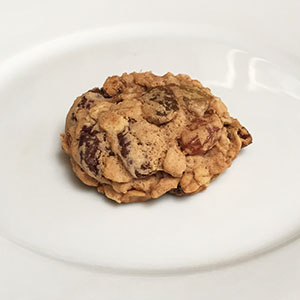 Sometimes life demands cookies. When it does, these are the ones you want to have up your sleeve, or, better still, ready to go in your freezer. 
These are Platonic Oatmeal cookies, and the recipe owes much to the one suggested by Quaker oats themselves.
Soft and warm and packed with chocolate. The kind of cookies everyone is glad to be passed around. And, happily, the kind of cookies that you make a giant batch of, then keep in the freezer, ready to go when the need arises, which is surprisingly often.
News to celebrate? Bake off a cookie. Friends pop round for a cup of tea? Bake off a cookie. Got to the end of Wednesday? Bake off a cookie. Picnic dinner of bread and cheese and tomatoes needs a resounding ending? Bake off a cookie turn into an ice cream sandwich etc etc.
1/2 cup room temp butter
2/3 cup light brown sugar
1 large egg
3/4 cup flour + 1/2 tsp baking soda
1 1/2 cups Quaker oats
1/2 tsp vanilla
1/4 tsp salt
1/2 tsp cinnamon
3/4 cup chocolate chips
1/2 cup sultanas
Mix the butter and sugar until fluffy in the mixer (5 mins)
Mix in the egg and scrape down the sides
Add the flour, baking soda, salt, cinnamon and vanilla. Mix to incorporate.
Stir in the oats chocolate and sultanas.
Scoop into balls, freeze on a tray, then transfer to tupperwear to live in the freezer until needed.
When you want to bake them, preheat the oven to 350f, then cook for about 12 mins, depending on the size of the cookie. Let them sit on the tray to cool for 5 mins, then serve warm (with ice cream).