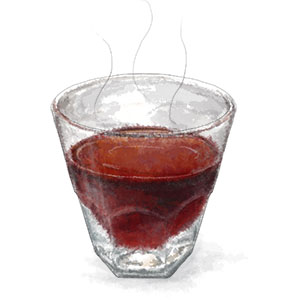 Having lugged the Christmas tree up to our 4th floor walk up, Jon was in no mood to accept criticism of the specimen. "It's not scraggly round the bottom! It has a perfectly nice bottom!"
We propped it more to the back and then more to the front, viewed it from every angle, but still, even though the iPhone spirit level affirmed it was technically perpendicular, the tree appeared to list drunkenly to one side.
"It's not listing," said Jon, stringing up the lights. "That's just the way the floor is." We decorated in silence for a moment as the Spotify carol playlis cycled through renditions of Holy Night. And then, maybe it was the tree "relaxing out," as Jon had confidently hoped, maybe it was the assortment of baubles and shimmer, or maybe it was the Steaming Bishop, but suddenly, the tree was beautiful, and Christmas was coming.
Steaming Bishop (makes 6 glasses)
This drink, a mulled port, is the subject of one of my favorite appropriated family stories. A friend of mine told me that it was his grandma's favorite tipple. Apparently, she would drink a couple after evensong and play christmas carols on her piano and make up rude lyrics. When I drink these, that's exactly what I feel like doing.
½ bottle of port ½ cup of orange juice 1 orange studded with 12 cloves 1 cinnamon stick   
Put the orange into a medium oven for 15 minutes to roast
Pour the port and the orange juice into a pan
Heat gently with the clove-studded orange and the cinnamon stick until steaming but not boiling