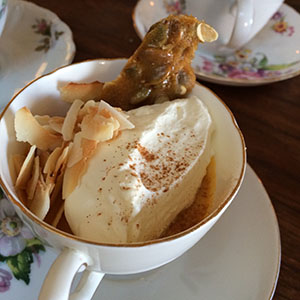 Think pumpkin pie, but creamier, and without the faff of pastry, and you're thinking panna cotta. The perfect Thanksgiving-y treat, but one that seems generally Fall, not specifically just for Thanksgiving, which is always pumpkin pie's limitation.
I first made these back in late September, for our friends Dan and Jen's baby shower. On my list of things to be thankful for this year are all the babies that we have lavishly showered. And that means, I'll blow my own trumpet here, I think we've got the hang of throwing a good baby shower party – a large, comforting Mac N Cheese, with little bowls of bacon, mushrooms, pickled onions and tomatoes to add in, a fancied up salad, (in this case, with toasted pecans and cranberries) and some kind of dessert in the mismatched china cups that I sourced from Goodwill.
This latest baby shower, for our friends Jenny and Dan, had an autumnal bent, which suggested something pumpkin-y in the cups. Not mousse (raw eggs), not a custard (not sure if the cups would survive being baked in the oven), which left panna cotta, always a third choice because of the gelatin, which seems like a step too far – though, every time I actually make it, I wonder why I was bothered by the gelatin in the first place. It really isn't a deal breaker, just a little bit of soaking required.
So I bought the pumpkin (in a can) and set to work – not a whole lot of work. Around 15 mins, one pan and one blender.
One of the very best ways to eat Fall.
Makes 6-8 servings, depending on the size of your ramekins / teacups
For the panna cotta
1 ½ cups milk
1 cup canned unsweetened pumpkin
1 cup cream
1 packet of gelatin
¼ tsp cinnamon
For the toping
1 cup heavy cream
1 tsp good vanilla extract
1 tsp total cinnamon
Pour half a cup of milk into a pan and sprinkle the gelatin on top. Leave it alone until it goes all spongy – five mins.
Meanwhile, blend (or whisk) the pumpkin, cream, cinnamon and the rest of the milk until it's really smooth and combined.
On a gentle heat, stir the gelatin until it's dissolved and the milk starts to steam. Pour through a sieve (just in case some bits of gelatin are still in tact) into the pumpkin mixture and blend or whisk again to combine fully.
Pour into ramekins / vintage teacups, cover with plastic wrap and chill in the fridge overnight (or for 5 hours)
Before serving, whip the cup of cream with the vanilla. Spoon onto the panna cottas. Sprinkle each one with a light dusting of cinnamon.
Some other decorating flourishes:
A sprinkle of toasted dried coconut
A shard of pumpkin seed brittle
A blob of sour cream and a sprinkle of brown sugar
Crushed up hard caramel candies
A scoop of vanilla ice cream dusted with cinnamon