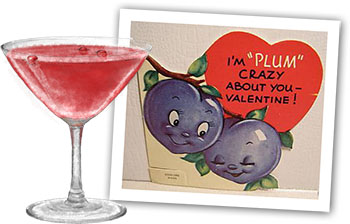 Valentines Day is one of the more depressing days of the year to be single in a Manhattan full of pink and cupids, set menus and single roses.
Mostly, being footloose and fancy free in the city can be a lot of fun, but then Christmas, or New Years, or your younger brother's engagement party comes along and knocks some of the joir de vivre out of it.
Sara, who's not been feeling the reveling-in-my-freedom-in-this-urban-paradise vibe for a while now, has felt each one of these dates keenly; even more so since she counted up the days in her diary since the last time she waxed for the benefit of company, and found the number to be unconscionably large.
We met for cocktails, gossip and ambiguity.
You see, Sara inadvertently picked up a man over Christmas at the office Christmas party after party. He seemed like a good guy. He slept on the sofa and made her breakfast. Then she called him, and he prevaricated. And he called her, and they went on a date. Then he prevaricated before calling her, so she prevaricated before calling him, and then he asked her out on Saturday night. Which would seem like a good sign. Only he's taking her to a Screw Valentines Singles party in Williamsburg where his friend is DJ-ing.
Note here to any men who may be reading this; taking a girl on a date to a Screw Valentines singles party may well be construed as giving out mixed messages.

There's nothing to misconstrue about these cocktails, however. They're pink, they're girly, they're Valentines-y. The perfect set up to an evening of assault by the slings and (Cupid's) arrows of outrageous fortune.
Of course, the cosmopolitan has to be right up there on the list – it's a little over exposed, for sure, but that's not traditionally a problem on Valentines day.
(per glass)
1 shot of cranberry juice
1 shot of vodka
½ shot of cointreau
Juice of half a lime (or less – I like mine lime-y)
Mix in a shaker and pour into a martini glass. Add frozen cranberries to keep the drink cold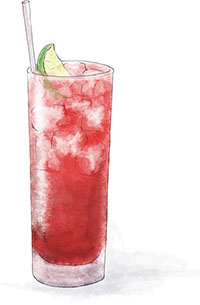 But a seabreeze comes a close second – the grapefruit gives it a refreshing kick – especially if you squeeze your own.
(makes 4 – 6 glasses)
1 ½ cups freshly squeezed grapefruit juice
3 cups cranberry juice
1 ½ cups vodka
Mix in a jug, chill in the fridge, then and serve over ice
Can champagne be improved upon? It's a worthy debate, and weighing in on the side of Yes would be this floral and girly Rose Scented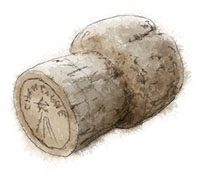 Champagne Cocktail
1 glass of pink champagne
1 tsp rose water