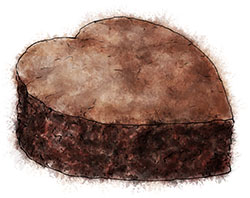 Valentines is a different ball park here in America. It's really not such a big deal in the UK. You'll see the odd woman with roses on the underground, and probably it's the Biggest deal in the Whole World if you are 16 and have a crush on a guy in the year above you at school, but for everyone else, it's more low key. The shops are full of it, of course, trying to persuade customers that a simple "I love you" will not suffice unless it is backed up by the testimony of a bear holding a heart (that he has no doubt ripped from the bleeding chest of some hiker in the woods), but on the whole, it's business as usual.
Here in New York, things are different.
Way back in time, on New Year's Eve 2010, my friend Jess returned to the city following Christmas with her family, and headed out to pick up the kind of essential items that Duane Reed is so very good at tempting us with; a new red lipstick, a new shower gel perhaps, a celebrity gossip magazine, a packet of twizzlers on special offer – we come in for dental floss and leave with a bag of cotton balls, a lip balm and a zebra-print nail file.
She located whatever it was that she'd gone in to buy, and headed for the tills when she rounded a corner and saw it; the Valentine's display was up, the shelves were a riot of red; full of cards and chocolate hearts. She let out an audible gasp of shock.
To reiterate. This was New Year's Eve.
"I know" said a woman who turned at the sound. "It's hateful isn't it?"
But it is hard not to be taken in by the delightful kitsch of it all. The gorgeous pinks and reds, the glittering foil, the extravagant boxes of chocolates of the variety that I'm sure lady romantic novelists of a certain age eat constantly, and sometimes feed to their spoiled Pekinese dogs.
So now I have a heart-shaped cookie cutter collection, and there's really no way back from that.
Thus, with the least amount of hatefulness possible, I offer these Valentines treats.

Chocolate dipped cookie hearts (makes 12 ish, depending on the size of the cutter)
If you don't have a heart-shaped cookie cutter, you can use a paper template and cut round it with a knife.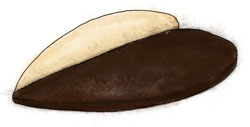 225 g plain all purpose flour
110 g super fine (caster) sugar
110g cold butter, chopped into cubes
1 egg
1 vanilla pod
2 bars of chocolate (I use Lindt dark chocolate)
Pre heat the oven to 350 (180)
Tip the flour, sugar, and butter into a processor
Cut the vanilla pod in half and gently scrape out the seeds. Add to the processor.
Blitz to mix into breadcrumbs
Beat the egg, then add and mix again into a dough
(or rub the butter, sugar, vanilla and flour between your fingers into breadcrumbs, add the egg and mix with a wooden spoon into a dough)
Lightly flour the work surface and roll out the dough to about ½ cm thickness
Cut out heart shapes, using a spatula to transfer them to a baking tray lined with parchment
Bake for 10 – 12 mins – I swap my trays around between the middle and top shelf, and I turn them so that the back becomes the front – though my oven has a mind of its own – you may not need to be so paranoid
Cool on a rack
Melt ¾ of the chocolate very gently either in a microwave or in a bowl over a pan of steaming water. Once it's melted take the bowl off the pan, then chop up the remaining chocolate and stir in to melt in the residual heat (this is a basic from of tempering without all the melting, cooling, re-melting business – the idea is to keep the chocolate temp cool so that it stays glossy)
Dip half each heart cookie into the chocolate and let dry on fresh parchment paper
Chocolate raspberry brownies
Instead of chocolate chips these meltingly dark brownies have little pockets of juicy raspberries scattered through them.  They're delicious served warm with pouring cream and fresh raspberries or with raspberry ripple ice cream. I usually cut them into heart shapes with a large cookie cutter for extra Valentine's spirit.
7 oz chocolate (which is usually 2 bars – I use Lint dark 70)
1 stick of butter (4 oz)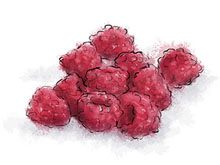 1 ½ cups of sugar (12 oz)
2 tsp vanilla essence
¾ cup flour (6 oz)
4 eggs
¼ tsp baking powder
1 cup of raspberries (6 oz)
Pre heat the oven to 350 (180C)
Melt the chocolate and butter in a bowl over a pan of simmering water or in the microwave
Whisk in the sugar until the mixture is fluffy
Add the vanilla or espresso and the baking powder
Stir in the eggs and flour alternately until the mixture combines
Dust the raspberries with a little extra flour to dust, and mix in (this stops them sinking to the bottom and keeps the batter from getting too wet as they cook down (if you want to add a handful of chocolate / white chocolate chips, dust them with flour and go right ahead!)
Pour into a buttered 8 inch square tin
Bake for 40 – 45 minutes until cracked on the top and gooey in the middle – keep an eye on them because ovens vary a lot (if your oven is unreliable like mine, turn the tin a few times to get more even cooking)
Cool, then use a cutter to cut out heart shapes
Strawberry Valentine Cup Cakes
All the ingredients should be at room temperature before you start. You'll get more reliable cakes if you use scales to measure by weight rather than volume in cups.
Ingredients (makes 12 fairy cakes, 8 muffin-sized cakes)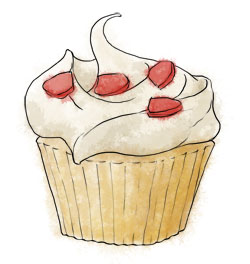 1 stick or 115g room temperature butter
½ cup or 115g sugar
2 eggs
1 cup or 115g flour
¼ tsp baking powder
1 tbsp milk
1 ½ cup cream
1 tsp sugar
½ cup fresh strawberries
3 tsp balsamic vinegar
2 tsp sugar
Pre heat the oven to 350 (180 C)
Line the cake tin with paper cases
Beat the butter and sugar together until pale and fluffy (takes about 5 mins – faster in a mixer or with an electric whisk)
Whisk the eggs then add to the mixture a bit at a time until incorporated
Sift the flour and baking powder together then stir in in a few batches
Mix in the milk so that the batter is smooth and easy to drop into the cases
Spoon into the cake cases and bake for about 15 mins until the cakes are golden and a toothpick inserted into the centre comes out clean. If you have a dodgy oven (like me) turn the tray half way through cooking to try to get a more even temperature
Transfer to a rack to cool
Dice the strawberries and mix with the balsamic vinegar and the sugar. Let them sit together for five minutes until the strawberries start to ooze their juice and form a syrupy sauce
Whisk the cream with sugar until it forms soft peaks
Once the cakes are cool, top with the cream, the strawberries and drizzle of the syrup