Dip is a big deal amongst my friends. Even ones who use their ovens for storage and don't know which way round to hold a vegetable peeler (yes, I'm thinking of you Adam), have strong culinary opinions on dip.
Sometimes they reconstitute it from packets. Often, this tastes appalling. But it reminds them of their childhoods, so they eat it with joy and alacrity. Sometimes they move in a 0–90 in 2 seconds gourmet direction. They buy expensive mushrooms, they borrow a blender, they expound on the importance of fresh thyme. They go to parties to eat each-others dip, tasting it like a sommelier would a fine Burgundy. They get through packets and packets of Doritos..
So I am throwing my hat into the wildly competitive dip arena, with this easy caramelized onion effort – it's a big step up from a packet, but not so rarefied that you're scared to dip a kettle chip in it.
8 onions (about 2 cups when diced)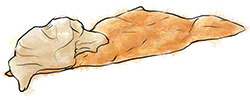 1 tbsp olive oil
2 tsp butter
½ tsp dried oregano
1 tbsp balsamic vinegar
1 ½ cups of sour cream
Salt and pepper
Dice the onions
Fry in the olive oil and butter over a low heat until they start to caramelize – 10 – 15 mins
Add the dried oregano and the balsamic vinegar and stir into the onions until combined
Season well
Allow the onions to cool slightly, then mix with the sour cream
This recipe first accompanied betting, Methodist guilt and football.