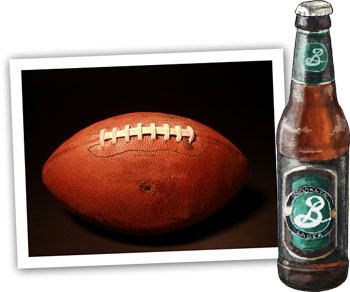 Super Bowl is almost upon us. Which is cause for great joy and celebration in our household – it's another of those fantastic eating holidays that we missed out on for years through ignorance and being British.
We first discovered the party when we were living in Warsaw Poland. Some ex-pat American friends invited us to join them at a local sports bar at 1 in the morning to eat burgers and watch the game. It was the most riotously joyful midnight feast I've ever been to. Plus I won $50 by picking a random name in the first touchdown sweepstakes.
Burgers, beer and betting when we ought to be tucked up in bed? For a girl who was brought up Methodist, it was all too seductive for words.
Like a convert to a new religion, I celebrate Super Bowl with zeal and fervor – over the years I've even been able to work out what makes Football different from Rugby, and what's going on on the pitch.
So here is my tribute to Super Bowl snack time – with the perfect tipple – a bottle of local beer.
Caramelized Onion Sour Cream Dip
Dip is a big deal amongst my friends. Even ones who use their ovens for storage and don't know which way round to hold a vegetable peeler (yes, I'm thinking of you Adam), have strong culinary opinions on dip.
They reconstitute it from packets. Often, this tastes appalling. It reminds them of their childhoods, so they eat it with joy and alacrity. Sometimes they move in a 0–90 in 2 seconds gourmet direction. They buy expensive mushrooms, they borrow a blender, they expound on the importance of fresh thyme. Then they scoop it up with Doritos.
So I am throwing my hat into the wildly competitive dip arena, with this easy caramelized onion effort – it's a big step up from a packet, but not so rarefied that you're scared to dip a kettle chip in it.
8 onions (about 2 cups when diced)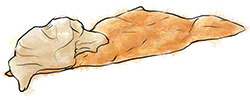 1 tbsp olive oil
2 tsp butter
½ tsp dried oregano
1 tbsp balsamic vinegar
1 ½ cups of sour cream
Salt and pepper
Dice the onions
Fry in the olive oil and butter over a low heat until they start to caramelize – 10 – 15 mins
Add the dried oregano and the balsamic vinegar and stir into the onions until combined
Season well
Allow the onions to cool slightly, then mix with the sour cream
Sticky Cola BBQ Ribs
These darkly glazed sticky ribs are always a crowd pleaser – and it's somehow extremely satisfying to use a whole bottle of coke to create a relatively small amount of gooey glaze. Don't use diet coke. I tried it, and the ribs tasted of chemicals. Very odd and a bit spooky when you think about it. It's enough that one of us put the thought "I know, let's make a ribs, only a bit more diet" into foolish action.
1 liter bottle of coke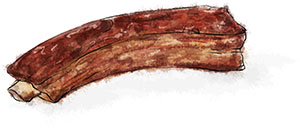 30 mini ribs
2 limes
2 tsp chili flakes
3 tbsp cherry preserve
Salt and Pepper
Tip the ribs into a zip lock bag, add the zest and juice in 1 and ½ limes, the cherry preserve, the chili flakes and enough of the cola to cover. Marinate for 2 hours in the fridge or overnight, whichever is easier
Preheat the oven to 350 (180 C)
Pour the rest of the coke into a pan and boil until it's reduced to about a cup
Tip the ribs and the marinade into an oven tray (I cover mine with foil to make the washing up less awful) Season with salt and pepper, then pour over the reduced cola.
Cover with more foil then roast for half an hour
Turn the ribs over, then roast for another half an hour
Turn the oven temperature up to 400, take off the foil, and roast for a further half an hour until the liquid is a sticky glaze (keep roasting until it is – ovens vary massively, and the amount of cola in the marinade varies, so check after 15 mins, and be flexible about the timing)
Spritz with the remaining half lime juice, then serve
Crispy Fried Pizza Bites (serves 8)

These taste fried, but are actually baked, which keeps the kitchen smelling good, and makes life much easier if you're feeding a crowd. They can be made a day or two in advance and heated up on Game Night.
30 wonton wrappers (I'm guesstimating 3 or 4 per person)
2 Â large balls of mozzarella cheese
8 – 10 tbsp marinara sauce (shop bought is fine)
30 small slices of salami
1 egg
Vegetable oil
Pre heat the oven to 400
Spoon a blob of marinara sauce into the centre of the wonton.
Top with a cube of cheese and a slice of salami
Crack the egg, and give it a quick whisk. Use a pastry brush (or your fingers) to dab a layer of egg around the edges of the wonton wrapper, then fold over into a triangle (try to seal out air pockets)
Repeat for the rest of the wontons
Brush both sides of each wonton with vegetable oil and place on a baking tray
Bake for about 10  minutes until the parcels are golden and crispy – keep an eye on them – I bought a packet of wontons recently that took 17 mins to cook up, and conversely, a different packet took 8. It depends on the wonton and the reliable-ness of your oven.
These can be made in advance and warmed through in a low oven to re-heat.
Season with salt and pepper and serve
If You Can Make That You Can Make This:
Switch out the salami for pineapple chunks and sliced ham
Or mushrooms and a drop of truffle oil
Or chopped black olives
Switch out the mozzarella for goat cheese
Or Cheddar
Leave out the tomato sauce altogether and go with cooked bacon and cheddar cheese
Or replace it with pesto and add chopped cherry tomatoes and mozzarella
Sweet Spicy Popcorn (serves 8)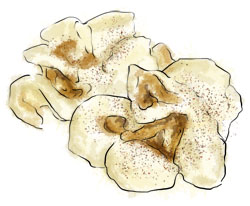 1 cup of pop corn kernels
4 tbsp vegetable oil
4 tsp salt
4 tsp brown sugar
4 tsp chopped fresh rosemary
3 tsp paprika
4 tbsp unsalted butter melted
Tip the kernels into a pan, pour in the oil and half the salt (1tsp)
Cover the pan with foil – use serious heavy foil or do a double layer -  to make a lid and cut a few holes for the steam to escape
Hold the pan above the heat so that it gently cooks the kernels (about 3 minutes.)
(or make some plain microwave pop corn or buy a bag of ready popped plain pop corn)
Mix the sugar, the remaining salt (1tsp), the rosemary and the paprika into the melted butter and pour over the popcorn, stirring well.