This recipe was inspired by a mis-ordering (my fault) on the website, of a family sized fruit and veg box.  This recipe took care of the heads of endive – which, slightly randomly, we received three of – and some of the mini apples from the mini apple avalanche. Thanks Grandma.
I think of this as a tangier version of a Waldorf salad. Crunchy endive provides a bitter seasonal note, and I swap out the mayo for a tangier combination of Greek yogurt and goat cheese.
It's worth noting that the dried cranberries take this totally in a Thanksgiving direction if that's a helpful direction to go in.
Endive autumn salad (serves 4)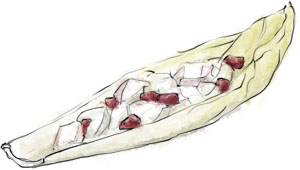 16 endive leaves
3 tbsp soft goat cheese
1 tbsp Greek yogurt
juice and zest of 1/2 a small lemon
I handful of dried cranberries
1 handful of diced apple (skin on if you like – I do) – I had mini apple in my veg box, so I used 4
1 handful of candied walnuts (I buy them that way, but they can be made by tossing the nuts with a tbsp of balsamic, a tbsp of brown sugar and some salt and roasting in a medium oven for a few minutes – watch them or they burn)
Salt and pepper
Mix the goat cheese with the yogurt. lemon and lemon zest
Add the apple and the cranberries and season well
Spoon the mixture into the solid end of the endive (or spoon into a bowl and use the endive leaves and other raw veg as scoops)
Put the walnuts into a zip lock bag, seal and bash with a mug or rolling pin so that they're crushed buy still lumpy, then sprinkle on top
If you can make that you can make this:
Add diced celery for a more classic Waldorf note
Add diced roasted chicken and serve on chopped salad leaves
Or serve on top of cous cous
Add a tsp of chopped fresh tarragon to the goat cheese mixture
Toast slices of French bread then sub with a cut clove of garlic and drizzle over some olive oil. Spread the mixture (minus the endive) on top to make crostini.
This recipe originally appeared with a recipe for a spiced cranberry apple cooler cocktail and a musing on the inner lives of naked art models.