Jon, returning from 3 hours of art class drawing naked middle aged models was tired and in need of succor.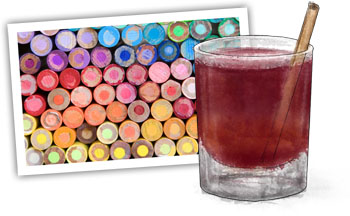 Since the building water tank has just been cleaned and the water is currently gurgling coffee-colored spume into the sink, we turned to alcohol and I took out the cocktail shaker.
It seems that while chatting in the break as the models hung about in insubstantial robes and ate sandwiches, he met an interesting management consultant. I know. I was surprised too.
"He was sent to work with this company that had a head office in Queens and a new office in Hoboken, where the woman managing the new office was having a terrible time. Insubordination, deadlines not being met, open hostility, you name it. So he gets there and it took him till lunch time to figure out the problem:
She was having an affair with the CEO in Queens and everybody knew about it. He said it was one of the easiest jobs he'd done. He made it early to art class."
Waiting to meet Jon out of this same class a few months ago, I found myself sitting next to one of the models on the steps of the building. She was wearing a dressing gown and smoking a cigarette. Her other hand clamped a phone to her ear and she was having a heated argument with a person unknown. There was swearing and shouting and threats of dire retribution for a perceived wrong. And then she stubbed out the cigarette, put the phone in the pocket of her dressing gown and went back inside to take off her clothes for artists.
Later, I looked at Jon's picture of her. She was naked, sitting on a chair looking over her shoulder, holding, for some inexplicable reason, a hula hoop. She looked entirely serene.
We sipped our drinks and looked through his sketches of the night. I looked for the model. I look for her every time. But I've never seen her again.
Spiced Cranberry Apple Cooler (per drink)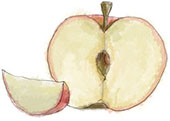 1 measure of fresh pressed apple juice or apple cider (that's American apple cider, not the British fizzy stuff)
1 measure of cranberry juice
1 measure of dark rum (this is where the "spiced" bit comes from – white rum is not the same thing at all, though pretty delicious too …)
Shake over ice and serve in tumblers with a cinnamon stick stirrer as a garnish if you're feeling fancy, or float frozen cranberries in it to keep it cool and also Thanksgiving appropriate.
Endive autumn salad (serves 4)

This week due to a mis-ordering (my fault) on the website, we have a family sized fruit and veg box that is starting to show its age.  This recipe took care of the heads of endive – which, slightly randomly, we received three of – and some of the mini apples, which, by no means a massive attack on the box certainly showed willing.
I think of this as a more autumn-y version of a Waldorf salad. Crunchy endive provides a bitter seasonal note along with the sharp goat cheese. The dried cranberries take this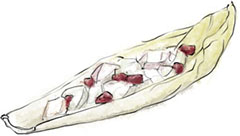 totally in a Thanksgiving direction if that's a helpful direction to go in.
16 endive leaves
3 tbsp soft goat cheese
1 tbsp Greek yoghurt
I handful of dried cranberries
1 handful of diced apple (skin on if you like – I do) – I had mini apple in my veg box, so I used 4
1 handful of candied walnuts (I buy them that way, but they can be made by tossing the nuts with a tbsp of balsamic, a tbsp of brown sugar and some salt and roasting in a medium oven for a few minutes – watch them or they burn)
Salt and pepper
Mix the goat cheese with the yoghurt
Add the apple and the cranberries
Spoon the mixture into the solid end of the endive (or spoon into a bowl and use the endive leaves and other raw veg as scoops)
Put the walnuts into a zip lock bag, seal and bash with a mug or rolling pin so that they're crushed buy still lumpy, then sprinkle on top
If you can make that you can make this:
Add diced celery for a more classic Waldorf note
Add diced roasted chicken and serve on chopped salad leaves
Or serve on top of cous cous
Add a tsp of chopped fresh tarragon to the goat cheese mixture
Toast slices of French bread then sub with a cut clove of garlic and drizzle over some olive oil. Spread the mixture (minus the endive) on top to make crostini.