Ingredients (enough for 4 people)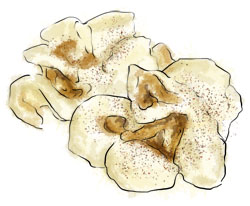 ½ cup of pop corn kernels
3 tbsp vegetable oil
2tsp salt
2tsp brown sugar
2tsp chopped fresh rosemary
1 tsp paprika
3 tbsp unsalted butter melted
Tip the kernels into a pan, pour in the oil and half the salt (1tsp)
Cover the pan with foil – use serious heavy foil or do a double layer -  to make a lid and cut a few holes for the steam to escape
Hold the pan above the heat so that it gently cooks the kernels (about 3 minutes.)
(or make some plain microwave pop corn or buy a bag of ready popped plain pop corn)
Mix the sugar, the remaining salt (1tsp), the rosemary and the paprika into the melted butter and pour over the popcorn, stirring well.
This recipe originally appeared with a Shirley Temple cocktail some thoughts on mocktails I loved on family holidays.