So I bought the grenadine with the intention of making Tequila sunrises, but I got distracted by the altogether more innocent charms of a Shirley Temple.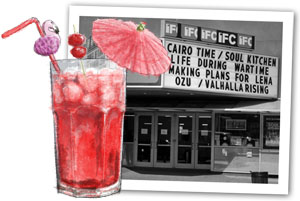 They were the treat of treats for my sister and I when we were growing up. Though our parents generally imposed a fizzy drink ban, we were taken to the Berni Inn for our birthday meal of choice, and we could order mocktails and eat French fries and color in on the menu with crayons.
The Shirley Temples – though at various times they were re-named to fit in with whatever theme the tenacious Berni Inn was trying out at the time – "Monkey Madness", "Fizz Bang Bang", "Pink Princess" and the like – was Queen of the mocktails. It was pink for starters. It came in a highball glass bedecked with orange slice garnishes, maraschino cherries, paper umbrellas, hanging plastic monkeys or mermaids and, best of all, some kind of curly straw. It was simply the most glamorous drink I could conceive of. When I'm older, I vowed, I will drink Shirley Temples on days when it is not my birthday.
This is one such day.
Shirley Temple (per glass)

2 parts ginger ale
1 part orange juice
Generous splash of Grenadine
Lots of ice cubes.
Pour the liquids into a high-ball glass. Add ice cubes, an orange slice and a maraschino cherry to garnish – paper umbrellas, curly straws and plastic monkeys optional.
For a hardcore Shirley Temple – a slightly disturbing image, I admit it – add a measure (3tbsps) of vodka.
And with your Shirley Temple, might I suggest a bag of hot popcorn, or should you feel in the mood for a little light cooking; sweet and salty popcorn. I don't play favorites with my food, but this is something special …
Sweet and Salty Popcorn
Ingredients (enough for 4 people)
½ cup of pop corn kernels
3 tbsp vegetable oil
2tsp salt
2tsp brown sugar
2tsp chopped fresh rosemary
1 tsp paprika
3 tbsp unsalted butter melted
Tip the kernels into a pan, pour in the oil and half the salt (1tsp)
Cover the pan with foil – use serious heavy foil or do a double layer -  to make a lid and cut a few holes for the steam to escape
Hold the pan above the heat so that it gently cooks the kernels (about 3 minutes.)
(or make some plain microwave pop corn or buy a bag of ready popped plain pop corn)
Mix the sugar, the remaining salt (1tsp), the rosemary and the paprika into the melted butter and pour over the popcorn, stirring well.