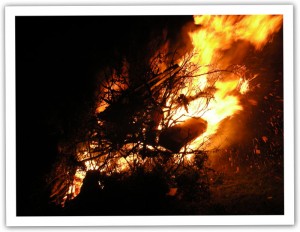 My husband is a chili lover, especially served on baked potatoes. It reminds him of childhood bonfire night at the farmhouse in Scotland, where he would spend the day with his brothers and father scouring the countryside with a tractor collecting enough dead wood and rubbish to build a fire several stories taller than the Dutch barn. One year the fire – in the field next to the house – melted all the guttering. Another year, flames leapt so high that the fire brigade turned up to investigate. They were handed baked potatoes and chili and stayed to watch the fireworks.
This is my homage to those chilies of yore.
Now I know chicken chili is not traditional, but I believe there's some authenticity to the idea:
In the days when I was still trying to impress Jon and claim to love ALL the things he loved to do, I hiked the Inca Trail. I know. Me. Hiking. Though I made him carry my orthopedic pillow the whole way in a rucksack. Back in civilization, exhausted and aching, we went out for chili and were given individual le cruset pots of steaming spiced chicken topped with a crouton smothered in melted cheese – the kind that you would expect in French Onion Soup. An obsession was born.
It's worth noting that chili powders come in a wide range of heats. The one from Dean and Deluca that I'm currently using is blow your head off hot, while the cheap one that I bought from Morton Williams takes a table spoon to get any heat at all. I specify a tsp here, but that can only be a guide. More often than not I use sambal oelek, which is a chili paste. It's super hot, but once you know that, it's always the same heat, so you can get it right and keep it right, eliminating guesswork. I use 3/4 tsp of it for a hot chili.
Ingredients (4 portions)
1 large white onion
2 cloves of garlic
1tsp cumin, 1tsp chili powder,  ½ tsp paprika, 2 tsp coco powder (optional)
4 – 6 chicken thighs shredded into little pieces

¼ cup dried red lentils
1 can of kidney beans
Vegetable stock cube, the juice of a lime and water to cover – about a cup to a cup and a half depending on the depth of your pan. You could use a chicken stock cube, or use a cup of chicken or vegetable box stock , whatever you have around
Salt and pepper
Chop up a large onion into a dice.  Tip it into a saucepan and add a tablespoon of light olive oil. Cook on a low heat for five minutes. You want to onion to soften and go golden but not to burn.

Add the flavorings; grate or finely chop the 2 cloves of garlic, add the 1tsp of cumin and chili, ½ tsp of paprika, the 2tsp of coco powder if using, and the lime zest. Toss them in the hot oil for a minute so that the chili has a chance to cook out some of its raw powdery flavor.  Season with 1 ½ tsp salt and 1 tsp pepper.
Add the chicken pieces.
Pour in the dried lentils.
Drain the kidney beans but do not rinse and add them in too.
Give everything a good stir.
Drop in the stock cube, pour in the lime juice, then add enough water to cover the chicken – something like a cup or a cup and a half, depending on the depth of your pan.
Let the stew bubble very gently for 40 mins on the stove top, or put in the oven at 300 for about 40 mins. If you have time to cook the chili slower, all to the good. Leave it in the oven for an hour and a half.
Stir occasionally and check the water level. You might have to add a bit more. Conversely, if the stew looks too wet, take the lid off and boil it until some of the water evaporates.
Do you want to make it fancier?
Add a tbsp chopped cilantro (coriander) and a very fine dice of fresh green chili
Stir in two chopped up beef tomatoes for freshness
Add a can of chopped tomatoes in with the stock cube instead of water, and a good knob of butter (which does something magical to the tomatoes bringing out their sweetness)
Add half a box of frozen sweet corn – not authentic and certainly not classy, but really tasty
Serving Suggestions
Cut a slice from a baguette and toast. Float on top of the chili and cover with cheddar cheese. Grill until melted.
Put bowls of tortilla chips on the table. Also, bowls of sour cream and grated cheese.
Or top the stew with tortilla chips, grated cheese and blobs of sour cream. The chips get deliciously mushy in the juice. I happen to like mush. Bliss.
Cook some rice
Serve on top of baked potatoes.
This recipe originally appeared with a discussion about the mythic bonfires of yore.