I call it "Moroccan" because it reminds me of the flavors that I first discovered on holiday in Marrakesh, with my family. Recovering from jet lag, my sister and I sat in bed watching Law and Order re-runs and listening to the call to prayer echoing over the minarets of the city, as we mopped up vast pottery soup bowls of chicken tagine with soft warm flat bread.
This recipe is inspired by the idea of the cuisine, and I make no claims for its geographical accuracy. On the contrary. It's an homage to a dream of cedar spiced souks, bottles of preserved lemons, steaming mint tea in golden glasses, and cool blue-tiled pools draped with floating silks.
Ingredients (4 portions)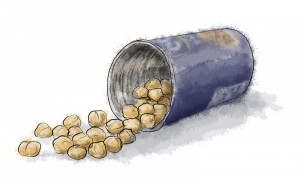 1 large white onion
2 cloves of garlic
1tsp cumin, 1tsp cinnamon
Zest of half a lemon
4 – 6 chicken thighs cut into bite sized pieces
¼ cup dried red lentils
1 can of chick peas (garbanzo beans)
Vegetable stock cube the juice of a lemon and water to cover (about a cup to a cup and a half)
Salt and pepper
Chop up the large onion into a dice. Tip it into a saucepan and add a tablespoon of light olive oil. Cook on a low heat for five minutes. You want to onion to soften and go golden but not to burn.
Now for the flavorings; chop or grate the garlic into the pan, then add 1 tsp of cumin, 1 tsp of cinnamon and the grated lemon zest. Toss them in the hot oil for a minute to cook out some of the raw powdery taste. Season with 1 tsp salt and ½ tsp pepper.
Add the chicken pieces. Turn in the hot spicy oil for a few minutes until they take on some color.
Pour in some red lentils – I put in a palm full per person, which I measured to be about ¼ cup total.
Drain the chick peas in their can, do not rinse, and add them in too.
Give everything a good stir.
Drop in the stock cube (you can use a chicken stock cube if you prefer, or use a cup and a half of stock from a box) Squeeze in the lemon, then add enough water to just cover the chicken – about a cup to a cup and a ½ depending on how deep and wide your pan is.
Put the lid on and let the stew bubble gently for 30 – 40 mins on the stove top, or put in the oven at 300 for about 30 mins. If you have time in hand, then put the stew in the oven at 250 and leave it for a couple of hours, checking the liquid level occasionally – you might have to add a little more. Conversely, if the stew looks too runny, increase the heat, take the lid off and boil some water away.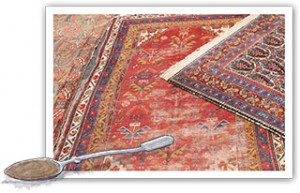 If I'm making this for a party on a work night, I'd cook the onion and spices, then add the lentils, beans, stock and water and boil for about 20 mins either the night before or that morning. Then when I get home from work I can add the chicken (which if I were feeling organized I might marinate in some lemon juice all cut up and ready in the fridge. ) Because the stew is already half cooked and thick, all I need to do now is cook the chicken through, which takes about 15- 20 mins.
Do you want to make it fancier?
Finish the dish with a squeeze of half a fresh lemon, and a sprinkling of parsley leaves
Add a handful of black Kalamata olives (with no pips) when serving
Add a handful of dried apricots or dried sultanas to the stew when you add the chicken and let them soften and sweeten as the stew cooks.
Replace a cup of the cooking water with a cup of orange juice
Serving Suggestions
Buy some flat breads. Buy some Greek yoghurt and put it in a little bowl on the side. If you feel up to warming the flat breads so much the better.
Fancy up the Greek yoghurt by grating in a clove of garlic and a squeezing in some lemon juice
Make some cous cous. It's great plain as it is, and you can serve it hot or cold, but you could also:

Sprinkle pomegranate seeds over the cous cous. This looks like something out of illustrated Sheherazade – quite unbelievably beautiful – and tastes amazing.
Add chopped parsley, slivered almonds and some dried cherries/chopped apricots to the cous cous.
Add roasted vegetables to the cous cous.

Serve a green salad with oranges.
Serve roasted cherry tomatoes on the side.