Mac n cheese is the sum of three processes; cook pasta + make cheese sauce + bake for ½ an hour. This recipe is from my husband Jon's notes, and serves 6, generously.
½ lb pasta (Jon uses small penne, but use macaroni if you prefer)
3 tbsp butter
3 tbsp flour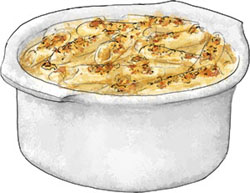 3 cups milk
1 clove garlic
1 bay leaf
¼ tsp nutmeg
2 ½ cups grated sharp white cheddar
1 cup grated gruyere
½ cup grated parmesan
Salt and pepper
Pre heat the oven to 370
Put on a pan of water to boil. Once it is boiling, add the pasta, salt generously, then set a timer for two minutes less than the cooking time on the box – we're going for very al dente
Pour the milk into a small pan (or microwave jug). Add the garlic clove (peeled) and the bay leaf, then heat until just simmering
Melt the butter in a pan, then stir in the flour. Mix together into a paste, and cook for 2 mins
Add the milk in a few batches, stirring in the flour butter paste – I use a little whisk
Cook the sauce until it thickens and coats the back of a spoon. Season with salt, pepper and the nutmeg, then add the cheese (reserving a little of each to sprinkle on the top) and cook very gently until it melts
By now the pasta should be ready. Drain and run under the cold tap to get rid of the starch – it makes the sauce smoother in the end
Toss the pasta in the cheese sauce then tip into an oven dish, top with the remaining cheese (or just grate some more over) and bake for 30 mins
If you like a crunchy topping, sprinkle ½ cup of breadcrumbs over the top of the pasta along with the cheese before baking
This recipe initially appeared in a post about one of my husband's favourite foods and a dish he learned to cook growing up.