This pasta dish takes very little time to prepare. Put the water on to boil with a lid on asap. Salt it after it's come to a boil, then dump the penne in. Now start on the sauce. You'll be eating in 12 minutes.
Penne with truffled mushroom sauce (serves 2)
200g penne pasta (the boxes I buy are 450, so I use about 1/2 a box.
1 tbsp olive oil
2 cups of mushrooms (a wild mushroom mixture or a box of crimini would be nice)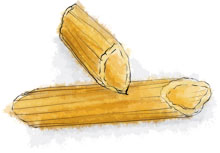 1 medium onion
1 plump clove of garlic
1 glass of white wine
½ cup of cream
1 tsp truffle oil
Salt and pepper
Parmesan
Bring a large pan of water to the boil. Salt it and add the penne. Cook for 1 minute less than the box instructions so that it is al dente.
Meanwhile, dice the onion and fry in 1 tbsp olive oil
Wipe then slice the mushrooms and add to the onion
Once the mushrooms are brown, season with salt and pepper and grate in the clove of garlic
Pour in 1 glass of white wine and scrape up the brown bits from the pan into a sauce
Add the ½ cup of cream and the tsp of truffle oil (taste the sauce – sometimes truffle oil loses its flavor if it's been in on a shelf for a while, in which case, add a bit more)
Drain the pasta and toss with the sauce
Grate over a generous amount of parmesan and some fresh black pepper
Serve with a green salad (from a packet) and a balsamic vinaigrette.
This originally appeared in a post about the dangers of kissing in a New York park and the court case that ensued.