On the way home from husband Jon's fantastic gallery show opening (Mapping the Big Apple – an example of which you can see above) friends Ingyin and Yosi pointed to a small nondescript village park – in any other city, it would be a generous pavement – Father Demo square.
"Don't be tempted to go in there at night," warned Yosi in portentous tones.
"Because of killer rats?" Jon ventured.
"Because it's officially locked at night. Sure the fence is only knee high, but it's officially closed."
"Some friend of ours learned that the hard way," Ingyin explained.
"They were on their third or fourth date, and they'd been out for dinner and were walking back to his place, but she was wearing heels and her feet were hurting, so they hopped the wall to sit down on a bench for a rest."
"For rest, read kissing?" I wondered.
"Probably," Ingyin agreed. "Anyway, they next thing they knew, a cop was yelling at them that they were trespassing, and gave them a court summons!"
"Seriously?"
"For real. Well, she was in the middle of applying for her green card and he worked as a lawyer and would lose his job if he got a criminal record, and the maximum penalty was a month in jail, so they were pretty freaked out to say the least."
"Then what happened?"
"They asked his friend who's a criminal lawyer to represent them and they appeared before a judge. And the Judge basically said he couldn't understand why the police were wasting his time with crap like that, and told them to go home."
"Still, not the ideal third / fourth date," I opinioned.
"Well, I don't know," mused Ingyin. "They're still together. I think it helped them bond – I mean, they were never stuck for conversation."
Bonding though shared experience is what dating is all about.
Here in New York, a lot of that experience is gathered in bars and restaurants. Even now, as I type this, friend Sara is drinking margaritas with Sean the guy from the office but on a different floor and seeing if this is an experience they might both like to repeat sometime.
Sometimes the experience is the enjoyable one that we want;
"We were eating the best cheesecake of our lives, then Woody Allen walks in!"
And sometimes, it's a less than enjoyable one that, it turns out, we need;
"The wait is how long? Two hours? For a burger? And great, it's snowing! Shall we cuddle to keep warm?"
Then the day comes. After a movie perhaps, or because you passed a farmers market on your afternoon stroll one Saturday. You'll cook, you say.
For your date. For the first time.
Penne with truffled mushroom sauce (serves 2)
This pasta dish takes very little time to prepare. Put the water on to boil with a lid on asap. Salt it after it's come to a boil, then dump the penne in. Now start on the sauce. You'll be eating in 12 minutes.
200g penne pasta (the boxes I buy are 450, so I use about 1/2 a box.
1 tbsp olive oil
2 cups of mushrooms (a wild mushroom mixture or a box of crimini would be nice)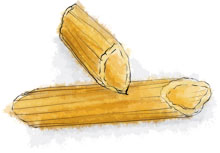 1 medium onion
1 plump clove of garlic
1 glass of white wine
½ cup of cream
1 tsp truffle oil

Salt and pepper
Parmesan
Bring a large pan of water to the boil. Salt it and add the penne. Cook for 1 minute less than the box instructions so that it is al dente.
Meanwhile, dice the onion and fry in 1 tbsp olive oil
Wipe then slice the mushrooms and add to the onion
Once the mushrooms are brown, season with salt and pepper and grate in the clove of garlic
Pour in 1 glass of white wine and scrape up the brown bits from the pan into a sauce
Add the ½ cup of cream and the tsp of truffle oil (taste the sauce – sometimes truffle oil loses its flavor if it's been in on a shelf for a while, in which case, add a bit more)
Drain the pasta and toss with the sauce
Grate over a generous amount of parmesan and some fresh black pepper
Serve with a green salad (from a packet) and a balsamic vinaigrette.
If You Can Make That You Can Make This:
Manhattan Restaurants That I Think Would Be Great Early Date Venues:
Relaxed, not especially expensive, and full of possibilities without trying too hard, these are some of my favorite romantic without a capital R restaurants. What are yours?
Keste (271 Bleeker Street) – amazing pizza, and tables crushed close together so that dinner can't help but be intimate
Arte (106 West 73rd Street) – classy, classic Italian food with white table cloths
Marumi (546 Laguardia) – sushi in a lovely winter garden hidden at the back of the dining room
Spigolo (1561 2nd Ave) – Jon and I got engaged here, but even so, it's not a full on crazy romance place by any means – great neighborhood Italian from an ex-Union Square Café chef
Kashkaval (856 9th Ave) – picky deli food of the olives, humus, tabouleh family at candlelit wooden tables tucked away at the back of the shop
Shanghai Cuisine (89 Bayard Street) – Chinatown without any of the grit. Tablecloths, nothing too scary on the menu, great soup dumplings, general civilized-ness
10 ways to improve the odds that this dinner will get you laid