A turkey is just a big roast chicken. It's not something to get too het up over.
Butter Roast Turkey (serves 6)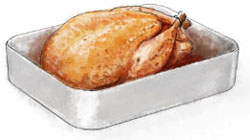 1 Turkey – 9 – 11 lbs (room temperature. Take it out of the fridge 30 mins before you want to cook it)
2 sticks of butter – one cold, one room temperature
1 box of chicken stock (homemade would be great but shop bought will be fine)
1 cup of white wine
2 large white onions
8 carrots
6 sticks of celery (or a couple of packets of pre cut carrot and celery crudities)
1 head of garlic
1 packet of fresh turkey herbs – you can make your own with a few sprigs of rosemary, thyme and sage
1 orange
1 lemon
2 tsp corn-flour
Preheat the oven to 450
Cut the onion into wedges and scatter it in the bottom of a roasting tray with the carrots, celery and garlic cloves (unpeeled). This is going to make a trivet for the turkey to stand on so it roasts rather than half poaches
Wash the turkey and pat dry with paper towels
Cut the cold butter into slices, push back the skin and poke the slices in against the meat being careful not to rip the skin
Smear the soft butter all over the outside of the skin, then season with salt and pepper
Season the inside of the cavity and stuff with the lemon and orange cut into wedges, then the fresh herbs. Tuck the wing tips under the bird.
Insert a disposable pop up thermometer into the thigh for added peace of mind
Sit the turkey on top of the vegetables then pour in the stock and the wine. Put the tray in the oven and turn down the temperature to 350. Roast until the leg is 180 on a meat thermometer (breast should be 170). If you insert a knife into the thigh the juice should run clear. This will take 2.15 – 3 hours.
If the bird is heading towards three hours, you might want to cover the breast with foil to avoid burning.
Take the turkey out of the oven, cover with foil to rest for 20 -30 minutes
Once it's rested move to a platter
Pour the juices into a pan (preferably using a fat separator to get rid of most of the fat, or skimming it off). Mash the vegetables about to make sure you get all the flavor out – I would suggest scraping through a sieve, but I suspect Thanksgiving is not the most opportune time …
Add 2 tsp of corn flour to a drop of cold water – enough to make a paste, then tip into the gravy
Heat until it begins to thicken. Add more corn flour slaked with water if necessary
This recipe originally appeared along with a full Thanksgiving roast dinner menu, that could just as easily be a Christmas dinner or Sunday lunch.