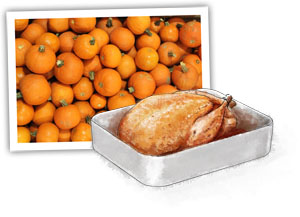 I'm pretty sure that Thanksgiving Dinner never got anybody laid. All the carbs and all the family – it's a killer combination. Engaged? Possibly. Divorced? So I'm apocryphally told. But laid? Nope. The best we can hope for is that should the situation arise we won't be too exhausted from all the cooking to take advantage of it.
Sure, I'm a Brit, what do I know about Thanksgiving?
Well, I know this; it's a roast dinner. Our grandmothers most probably made a version of it every Sunday of their lives. A turkey is just a big roast chicken. It's not something to get too het up over. Though it is something to be seriously thankful for.
And so to the food.


Butter Roast Turkey (serves 6)


1 Turkey – 9 – 11 lbs (room temperature. Take it out of the fridge 30 mins before you want to cook it)
2 sticks of butter – one cold, one room temperature
1 box of chicken stock (homemade would be great but shop bought will be fine)
1 cup of white wine
2 large white onions
8 carrots
6 sticks of celery (or a couple of packets of pre cut carrot and celery crudities)
1 head of garlic
1 packet of fresh turkey herbs – you can make your own with a few sprigs of rosemary, thyme and sage
1 orange
1 lemon
2 tsp corn-flour
Preheat the oven to 450
Cut the onion into wedges and scatter it in the bottom of a roasting tray with the carrots, celery and garlic cloves (unpeeled). This is going to make a trivet for the turkey to stand on so it roasts rather than half poaches
Wash the turkey and pat dry with paper towels
Cut the cold butter into slices, push back the skin and poke the slices in against the meat being careful not to rip the skin
Smear the soft butter all over the outside of the skin, then season with salt and pepper
Season the inside of the cavity and stuff with the lemon and orange cut into wedges, then the fresh herbs. Tuck the wing tips under the bird.
Insert a disposable pop up thermometer into the thigh for added peace of mind
Sit the turkey on top of the vegetables then pour in the stock and the wine. Put the tray in the oven and turn down the temperature to 350. Roast until the leg is 180 on a meat thermometer (breast should be 170). If you insert a knife into the thigh the juice should run clear. This will take 2.15 – 3 hours.
If the bird is heading towards three hours, you might want to cover the breast with foil to avoid burning.
Take the turkey out of the oven, cover with foil to rest for 20 -30 minutes
Once it's rested move to a platter
Pour the juices into a pan (preferably using a fat separator to get rid of most of the fat, or skimming it off). Mash the vegetables about to make sure you get all the flavor out – I would suggest scraping through a sieve, but I suspect Thanksgiving is not the most opportune time …
Add 2 tsp of corn flour to a drop of cold water – enough to make a paste, then tip into the gravy
Heat until it begins to thicken. Add more corn flour slaked with water if necessary
Roasted pumpkin, Sweet and Fingerling Potatoes with cranberries (serves 6)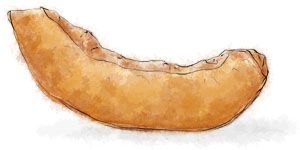 1 medium pumpkin
8 large sweet potatoes
20 Fingerling potatoes
1 handful of dried cranberries soaked for five minutes in a splash of orange juice
Olive oil
Salt and pepper
Slice the pumpkin into 1 inch wedges, peel and quarter the sweet potatoes and scrub then halve the fingerling potatoes lengthwise
Toss with 2 tbsp of olive oil mixing well to coat and season with salt and pepper
Roast at 350 if you're cooking with the turkey or 400 if you have the luxury of another oven (or start them at 350 with the turkey then blast them at 400 once the turkey is out and resting) for 45 minutes until crispy and brown, turning after 20 minutes
Scatter the cranberries on the top to serve
If you can make that you can make this:
Swap out the sweet potato for yams, or for a mixture of sweet potato and yams
Swap out the pumpkin for butternut squash
Scatter toasted pecans over the dish before serving
Drizzle over a tbsp of maple syrup 20 mins into roasting
Toss in a handful or two of mini marshmallows about 5 mins before the end of cooking
Apple stuffing (serves 6)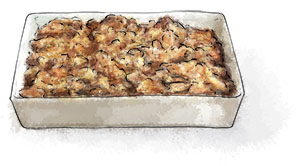 1 large onion
2 sticks of celery
2 tbsp butter
2 rashers of bacon
2 handfuls of dried cranberries
2Â  – 3 apples ( a cup full of diced apple)
1 handful of chopped pecans
2 cups of breadcrumbs – roughly processed – you want some lumps
Approx 3 cups apple juice
1 egg yolk
Salt and pepper
Dice the onion, the celery, the bacon and peel and dice the apple
Fry in the butter until cooked through – about five mins
Off the heat add the cranberries the pecans and the breadcrumbs and season well
Pour in the egg and stir in the apple juice until the stuffing mixture binds together – you may need more or, if you're using super dry breadcrumbs, you may need a little less
Tip into a baking tray
Once the turkey comes out of the oven to rest, turn up the oven to 400 and roast for 20 – 25 mins
Green beans (serves 6)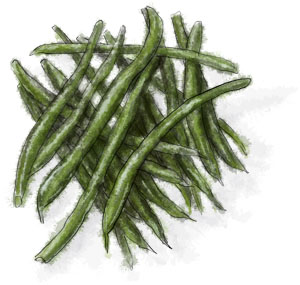 6 generous handfuls of green beans, trimmed
1 tbsp garlic olive oil (or 1tbsp olive oil and half a clove of garlic grated in)
Salt and pepper
Boil a kettle so you're ready to go with hot water.
Pout the beans in a pan and salt them well.
Boil the beans for two minutes until they are vivid green
Drain and tip into a serving dish, toss with the garlic oil and season well