This recipe serves 2. For more people, add more birds, prunes and onions. Leave the jus ingredients the same – they'll still be plenty up to about 6. After that, add a splash more stock and port.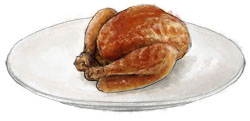 2 poussins or Cornish Hens
4 pitted prunes
1 onion
4 cloves of garlic
2 tbsp butter per bird
Salt and pepper
½ cup port
2/3 cup chicken stock
12 tbsp redcurrant jelly (or cranberry sauce)
Pre heat the oven to 425
Season the cavity of each bird and pop in 2 prunes and 1 quarter of onion
Rub butter over the outside of the bird and season well. Place in a roasting tin
Scatter the unpeeled garlic cloves in the roasting tin, and the leftover onion. (Stop here if you're preparing ahead)
Roast for 55 minutes (the meat should be 175 F on a thermometer and the juices should run clear)
Transfer to a serving dish and cover with foil to rest and keep warm
Put the roasting pan on the heat and pour in the chicken stock and port. Scrape up the bits from the bottom and squeeze out the garlic, removing the skins
Add the redcurrant jelly and bubble to reduce slightly
This recipe originally appeared alongside an engagement accident waiting to happen and a Dickensian Christmas feast.